Omar Raudez Appointed NSO Director
August 22, 2022

Enrollment Management is pleased to announce the appointment of Omar Raudez to the Director of New Student Orientation role, effective Aug.8.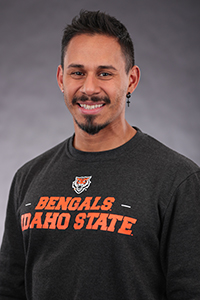 Raudez has been serving in this role in an interim capacity since March 2022. He brings a wealth of experience related to student programming, recruitment, and advising.
Raudez moved to Idaho in 2006 from Houston to Idaho State University, recruited by ISU Alumni Richard Schroder. He has a master's degree in public administration from Idaho State University, plus 10 years of experience in higher education, including recruitment and advising for international students and veterans, immigration rules and regulation, and assisting with pre-college first-generation students.
---
Categories: