ISU Navigate Fall 22 Impact Update
December 1, 2022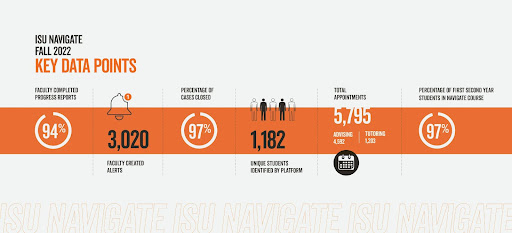 Dear Campus Community,
As another semester comes to a close, I want to recognize the good work of our faculty and student support professionals utilizing the ISU Navigate platform. As you can see in the graphic below, there is much to be proud of and to celebrate. Faculty participation in the early alert system and timely intervention from our support staff generate several touchpoints that help our students not only be retained, but also to excel during their time at ISU.
We continue to integrate new classes and student support offices into ISU Navigate each semester. Early indications demonstrate that this platform, along with other campus community initiatives, are having a positive impact on student success.
Sincerely,
Corey Zink, PhD
Executive Director, Office of Academic Advising
---
Categories: