Scholarship Deadline for New Incoming Students is June 1
December 19, 2022

Idaho State University has implemented a new scholarship awarding index that has already awarded millions of dollars to fall 2023 new incoming first-time students who are Idaho residents.
Currently, there are over 4,000 students who have received scholarships under the new index. All students who apply by the June 1 scholarship application deadline will be automatically considered for the scholarship.
The Presidential Scholarship, the top tier of this index, awards more money than the top tier of any other scholarship index in the state. At $7,500 per year for four years, any new first-time Idaho resident with a 4.0 GPA, who is a graduate of an Idaho high school or equivalent, qualifies. If a student does not meet the 4.0 GPA, they can still receive the top award with a qualifying ACT or SAT score. To be eligible for any of the four additional awarding levels of the index, students must be incoming first-time Idaho high school graduates with a 3.0 GPA or greater. To receive students simply complete their application for admission.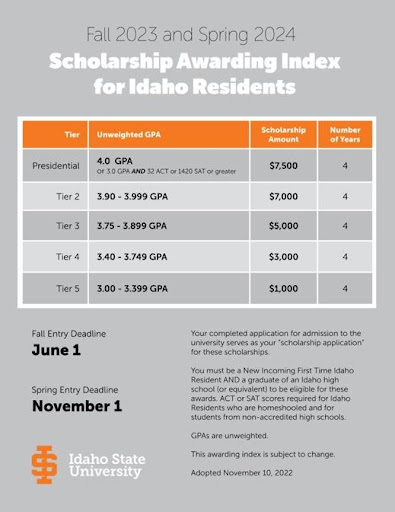 All students should access the Bengal Online Scholarship System (BOSS) for additional scholarship opportunities. New incoming Non-Residents, and Transfer students starting Fall 2023, should also be fully admitted by June 1 for automatic recruitment scholarship consideration. For more information on awarding indexes and BOSS, visit: isu.edu/scholarships
For more information or to apply, please visit isu.edu/admissions/.

---
Categories: