Health Occupations Scholar David Flint Retires After 16 Years of Service
August 29, 2022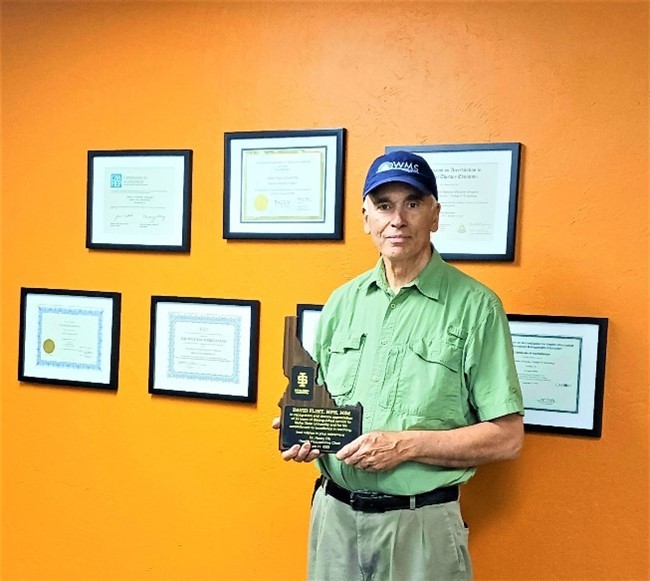 Professor David Flint has retired after 16 years of service at Idaho State University. Flint joined the College of Technology at ISU as a Health Occupations Education Specialist in August 2006.
He rose from the faculty rank of instructor to clinical assistant professor. He has a master's degree in public health, a master's degree in education, and a bachelor's degree in health science from ISU. He is also a certified paramedic who is trained in Advanced Disaster Life Support.
Flint is a member of the Academy of Wilderness Medicine, and is a candidate for Fellowship status, the highest level of achievement in the field of wilderness medicine. Flint received the College of Technology Outstanding Faculty Achievement Award in 2015. He participated in many committees within the department and the college, and contributed to other education institutions and organizations. He was invited to serve as an external reviewer for the Health Sciences Department at Weber State University. Under the direction of Dr. Travis Price, the review team evaluated the mission statement, curriculum, student learning outcomes and assessments, academic advising, faculty, program support, relationships with external communities, and program summary.
Flint traveled to West Africa to supervise a medical outreach team to provide basic health care to refugees and Internally Displaced People in Liberia. He wrote several research papers including: "African Refugee, IDP Children and Post-Traumatic Stress Literature Review and Interventions," "An Infectious Disease Syndrome Surveillance Project for EMS, MPH Program," and the "Epidemiology and Response to Ebola in Liberia." He contributed to the textbook, "A Clinically-Oriented Approach to Anatomy and Physiology," published by Kendall Hunt in 2021.
The Health Occupations Department has recognized Flint for consistently achieving one of the highest scores in student evaluations. He has received several Certificates of Excellence in Teaching. Examples of the student feedback include, "He gave us many tools to help us through this course and the labs were a great hands-on approach in providing clarity in our text…the teacher was engaging and showed us how to do a certain activity… I learned more from his lectures than I did from the book." David taught several courses such as anatomy and physiology, pathology, medical law and ethics, pharmacology, etc.
Health Occupations Chair, Dr. Henry Oh, describes Flint as a scholar and educator who looks after the needs and interests of his students. He is particular about student retention and student success. Even with a full teaching load and big classes, Flint finds time to communicate and follow up the progress of his students.
---
Categories: