Electric Vehicle Charging Stations Now Available on the Pocatello Campus
January 12, 2023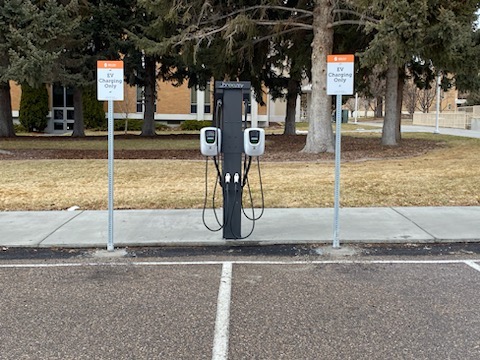 The Department of Public Safety has partnered with Idaho Power, the Portneuf Resource Council, the Idaho Museum of Natural History, and the Pocatello Rotary Club to install two electric vehicle charging stations in the Student Union parking lot on the Pocatello campus.
These stations are now active and available for use while we continue to plan for the expansion of electric vehicle charging stations across all campus locations in the future.
To use these stations, drivers must download the AmpUp App through the Apple App Store or Google Play Store. Drivers will need to log in or create a new account. Users can then scan the QR Code located on the bottom of each charger to pay and begin charging.
Currently, employees and students with a valid parking permit will pay a discounted rate of $0.30 per hour for electric vehicle charging. To sign up for this discount please use the AmpUp app to scan the QR Code on the front of the charger, scroll down and click the link "Special Access" and lastly click "Request Access." Alternatively, users can call Parking Services at 208-282-2625 to be granted access. This discount will only be available using an ISU email account.
Campus visitors without a valid parking permit will pay the current rate of $1.30 per hour for electric vehicle charging.
Each charging station can charge up to two vehicles at once. We kindly ask that drivers only park in the designated parking spaces in front of the charging station while charging. The AmpUp app will send a notification when the vehicle has charged completely.

Please contact Parking Services at 208-282-2625 or parking@isu.edu with additional questions or comments.
---
Categories: