Dr. Thomas Pfister, Lecturer in English, Retires After 26 Years of Teaching at Idaho State
December 5, 2022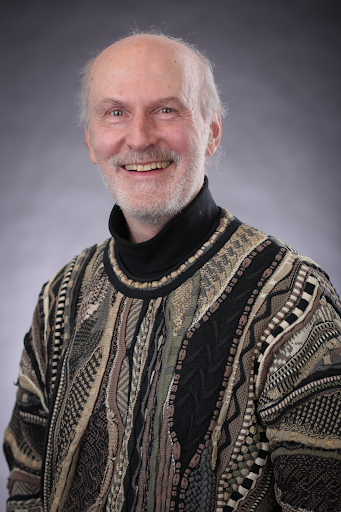 The Department of English and Philosophy announces the retirement of Dr. Thomas (Tom) Pfister, Senior Lecturer in English, after over 26 years of teaching at Idaho State University.
Pfister completed a Ph.D. in English in 1996 at the University of Wisconsin-Madison, with a dissertation on Restoration and Eighteenth-Century British Literature. Soon after, he was hired as an Assistant Lecturer of English at ISU, where he has spent his entire career.
Pfister is also an accomplished visual artist. In 2007, he completed an M.F.A. in Printmaking in ISU's Department of Art. Dr. Pfister has produced numerous very fine works of watercolor and collage, including a series of portraits of influential British and American writers. Dr. Pfister donated these portraits and over a dozen other works to the Department of English and Philosophy. They are proudly displayed in the Department's main office and in the English faculty office alcoves on the second floor of the Kegel Liberal Arts Building.
As a Lecturer, Dr. Pfister taught courses at all undergraduate levels, but the focus of his teaching was General Education courses in first-year writing and literature. Through the years, students consistently praised Dr. Pfister's commitment to their learning, especially his willingness to work individually with them. As one recent student wrote, "I had this professor for ENGL 1101 and 1102 and I loved him!" The student continued, "He is the only professor I have had who allows for a conference the day before the essays are due, and I think every teacher should do this. It helped me be a better writer." The student concluded, "I now feel like I can write great papers because of Thomas Pfister. Such a great professor!"
The Chair of English and Philosophy, Jessica Winston, remarked, "We are grateful to Dr. Pfister for the important role he has played in the English Department over his entire career. He has been an influential and respected teacher, especially for students in their crucial first year at the University." She continued, "We are very grateful to Dr. Pfister for the donation of his artwork, which has and will continue to dignify and beautify our halls for decades to come."
At Dr. Pfister's request, the Department will not be holding a retirement celebration; however, the Department invites members of the ISU community and others to sign a card for him. The card, which features the calligraphy of Professor of English Roger Schmidt, will be available in the main office of English and Philosophy (LA 262) through Wednesday, December 14. As an alternative, expressions of gratitude or well wishes can also be sent by December 14 to english@isu.edu, and these will also be shared with Dr. Pfister.
---
Categories: