Southeast Idaho Retired Educators Association Raises $2,496 for ISU College of Education Student Scholarships
July 19, 2021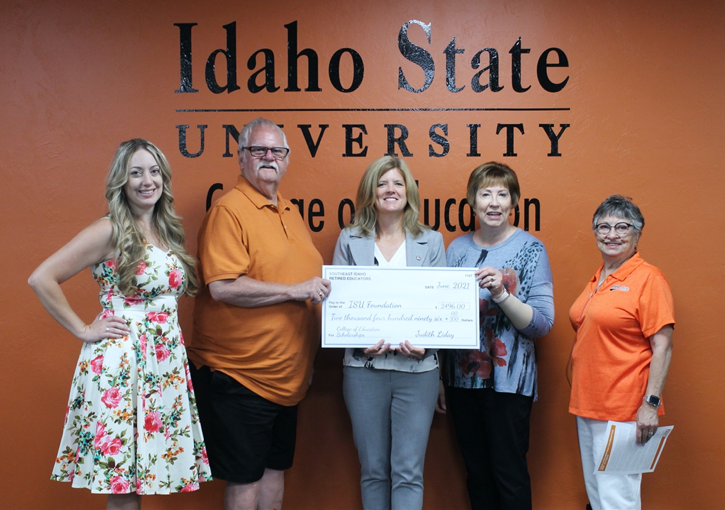 The Southeast Idaho Retired Educators Association (SEIREA) raised $2,496 for student scholarships in ISU's College of Education earlier this year.
This funding was awarded to four teacher education students to help support their educational journeys.
"Helping is the reason behind the donation," SEIREA President Roger Wheeler said. "So many students need help paying for college, and some of us have benefited from scholarships, so we wanted to pay it forward."
SEIREA is a network of retired Southeast Idaho educators who are committed to serving those in need in our community and to providing opportunities to future educators.
"We just really want to see young people go into education," said incoming SEIREA President Ronda Black. "Teaching is one of the most valued professions there is, and we really want it to be as easy as possible for students to not only pursue their passions, but also to not be burdened with thousands of dollars of debt."
The SEIREA Board has been raising money for the College of Education and other nonprofit organizations since their inception. Traditionally, SEIREA hosts a silent auction and raffle every year. However, due to COVID-19, they were unable to host this annual event. Still wanting to help others, SEIREA send out a letter encouraging retired Southeast Idaho educators to donate funds to support scholarships for students enrolled in ISU's College of Education.
"Once we sent out our letter, the money rolled in," Wheeler said. "This is the largest amount we have ever raised and it is all thanks to our retired educators."
With the increased demand for teachers in Idaho, the College of Education has sought to launch programs that are both flexible and affordable. Two years ago, the Masters of Arts in Teaching (MAT) program was launched and this fall the College will offer a new fully-online, fee-based teacher education program (OTEP) for students interested in elementary or special education. The MAT program allows students who have a bachelor's degree to earn both a master's degree and Idaho teaching certification in just over a year; the OTEP program is designed for students who want to become teachers but can't commit to being on campus due to constraints related to work, family or geography. Scholarships, such as the ones made available by SEIREA, provide students across all of our teacher certification programs with much-needed support to allow them to pursue studies and eventual careers in education.
"We are committed to making scholarships a central component of our fundraising goals this year so that all students who want to pursue a degree in the College of Education have the support they need to achieve their academic and career goals," Dean Jean McGivney-Burelle said. "We are grateful for SEIREA's continued support and for this generous gift."
To learn more about donating to student scholarships and giving to ISU's College of Education's Dean's Excellence Fund, please visit isu.edu/give. Gifts made to the College of Education directly support the Dean's Excellence Fund. This fund is used in part to encourage faculty to be innovative and strengthen student experiences in the College of Education.
---
Categories: