New Frontier in Cancer Research: 3D Bioprinting
April 30, 2021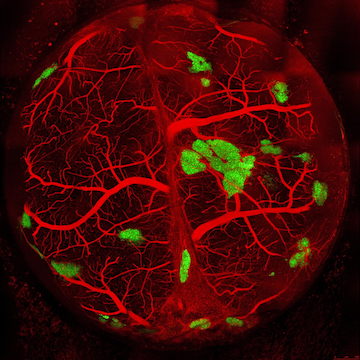 The next frontier of cancer research is happening at Idaho State University, and it's gone 3-D.
You may have heard of 3-D printing, and its expansion from little discs to printing a house. Bioprinting is very similar, using hydragels and cells in the cartridges, instead of a resin.
"People are using this to print bones," said Jared Barrott, assistant professor in the department of biomedical and pharmaceutical sciences. "They're already printed a human heart to help with a transplant. This is really taking off in the biomedical world, and it's amazing that Idaho State University is a part of it at the inception."
Idaho State University has the bioprinter and now has a way to expand even further on the research, thanks to a $213,000 grant from the National Institutes of Health and Idaho IDeA Network of Biomedical Research Excellence.
The two-year grant will start in May, and will be used to support graduate and undergraduate education as they work with the bioprinter. This means more people joining the fight against specific kinds of hard-to-treat cancers.
"In the sarcoma world, the bone and muscle cancers, they're kind of behind where everybody else is in learning how to bioprint different cancers," Barrott said. "Our goal is to develop the most efficient model for printing these types of cancers, and to get it really good at making so it looks exactly like it does in the human body."
Barrott said people as young as 6-8 years old can get muscle cancer, with the peak instance happening with people around 34. Bone cancer is more common in 17-25 year old people. Survival rates for sarcoma cancers in general have a 60 percent five-year survival rate, and that decreases to 15 percent if a patient's cancer metastisizes.
"Studying drugs in a three-dimensional space with the 3D bioprinting gives us a better idea of how the drugs are going to perform at the next level, instead of saying they work great in a 2D model, and learn they have more obstacles to overcome when they get into the human body."
Barrott said he is grateful that Idaho State University had the foresight to invest in this opportunity early on, which has led to the opportunity to be on the cutting edge of this new cancer research.
---
Categories: