ISU's Structural Laboratory gets a significant upgrade, adds new visualization capability
December 21, 2020
Rachel Brownell, ISU CEE Engineering Student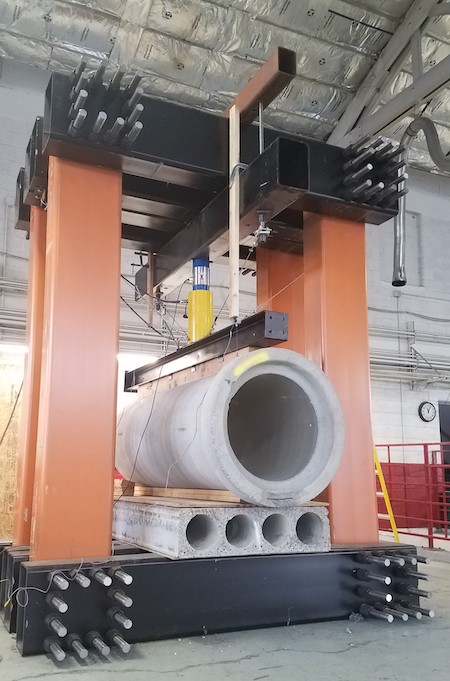 POCATELLO – The Structural Laboratory (SLAB) within the Department of Civil and Environmental Engineering at Idaho State University received approximately $250,000 in upgrades and new equipment this year, including a new Visualization Laboratory.
The labs offer the chance for many undergraduate and graduate students to apply their knowledge from the classroom toward groundbreaking research in civil engineering and multi-disciplinary projects.
"Dr. Mashal and his colleagues in the Department of Civil and Environmental Engineering are dedicated to continuously improving the learning experience for our students and the assistance we can provide to our research partners," said Scott Snyder, dean of the College of Science and Engineering. "This is the latest exciting example of their dedication."
"Idaho State is proud of this remarkable lab," said David Rodgers, ISU associate vice president for research and associate director for the Center for Advanced Energy Studies (CAES). "SLAB provides exceptional testing capabilities for construction materials, gives our Engineering students the opportunity to work with industrial partners, and uniquely incorporates the emerging tool of virtual reality."
The crucial improvements were led by Mustafa Mashal, associate professor of civil and environmental engineering and director of the SLAB, and lab manager/research engineer Jared Cantrell. The Higher Education Research Council's Research Infrastructure and ISU's Center for Advanced Energy Studies provided approximately $250,000 in combined funding. The new additions will allow undergraduate and graduate research students to expand their research and testing knowledge in the Department of Civil and Environmental Engineering.
"I am happy to see the new upgrades and equipment in the structural laboratory," Mashal said. "The day I joined ISU in 2016, I had a vision for a unique large-scale testing facility in the state of Idaho. With the help of ISU's students, faculty and staff we have made that possible. Since the Structural Laboratory opened at ISU in late 2017, it has provided opportunities to dozens of our students and has brought in a significant amount of external research funds."
The SLAB was built by the students and faculty from the Department of Civil and Environmental Engineering in 2017. Mashal was the lead structural engineer and Cantrell the student lead for construction. The SLAB is a unique large-scale testing facility in Idaho with a strong floor, reaction frames, servo-valve hydraulic actuators, hydraulic rams, testing machines, instruments, data acquisition system and other equipment.
The new additions to the SLAB include a 2.5-million-pound isolation frame with its custom-built load cell, hydraulic ram, 10,000-pounds-per-square-inch (psi) pump and other accessories for testing of high capacity components; additional hydraulic rams 200,000 to 400,000 pounds in capacity and 4- to 12-inch stroke with 3,000 psi hydraulic pump; a 10,000-pound forklift; 12-cubic-feet concrete mixer; upgraded data acquisition system; two 225,000 pounds tension/compression hollow load cells; additional instruments; and eight new computers for research students.
"The new equipment allowing the ISU Civil and Environmental Engineering Department to produce forces in excess of 2 million pounds opens up tremendous opportunities within civil experimentation." Cantrell said. "Bridge bearings being just one item that it can be utilized towards. This equipment and capability allow for the experimental testing of various full-scale items that very few institutions are able to accomplish."
A new Visualization Laboratory was also added within the structural engineering research group. This laboratory is equipped with two pro-grade virtual reality (VR) headsets with eye-tracking; one Vive Cosmo and one Oculus Quest headsets that allow users to visualize information in a 3D, immersive virtual environment. Additional equipment includes one Dell Alienware laptop and two Alienware desktops to develop VR environments; and an iPad pro with inbuilt Light Detection and Ranging (LiDAR) scanner for augmented reality (AR); four monitors and other accessories.
"I am excited about the new Visualization Laboratory; civil engineering has been evolving and there are emerging fields within the discipline," Mashal said. "The Visualization Laboratory will be used for our collaborative research in civil and critical infrastructure for Industry 4.0 which is the on-going Fourth Industrial Revolution. Thanks to ISU's Office for Research for investing in our laboratory capabilities, the new equipment and facilities are already being used by students for their projects. I have no doubt that the upgrades and new facilities will benefit our students and Idahoans for many years to come."
Photo information: Full-scale testing of a reinforced concrete pipe inside the new isolation frame.
---
Categories: