Idaho State Marketing Assistant Completes Superbowl Internship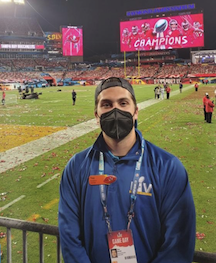 Idaho State Marketing Assistant, Trey Harmon, just returned from a 10-day internship at Super Bowl LV in Tampa Bay, Florida.
Harmon is currently a graduate student at Idaho State University working towards a master's degree of athletic administration. In Spring 2020, he graduated with his bachelor's Degree in sports management.
Born and raised in Pocatello, Harmon knew coming out of high school that Idaho State was where he wanted to continue his education. He originally went to school for health sciences, but switched over to sports management.
He quickly realized health wasn't what he wanted to get into after talking with an intern in the marketing department, who asked Harmon if he wanted to be Benny the Bengal, ISU's mascot.
Harmon suited up as Benny full time in 2018, and is still walking around campus as ISU's mascot occasionally. Once he was part of the athletics at ISU, Harmon decided sports management and marketing was where he should be.
"After I said yes to being Benny, I realized that marketing and the sports world are a lot of fun, and there's a lot to do," Harmon stated. "One football game in, I said, 'alright, I am switching over to sports management, and here we are.'"
Here he is after heading to Tampa Bay, where he was an Event Operations Assistant through Living Sport, a program designed to take students to different major sporting events around the world. This was Living Sport's first event in the United States, which happened to be Super Bowl LV.
Harmon's duties were to help the Super Bowl Host Committee run events on the Thursday, Friday, and Saturday mornings leading up to the Super Bowl. These duties consisted of running Fan Fest Events, concerts, and making sure fans were following COVID-19 protocols.
Out of 40 interns from Living Sports, Harmon was selected along with a few other Event Operations Assistants to help at the VIP events on Friday and Saturday night before the Super Bowl. The attendees at the VIP events were team owners, former players, NFL executives, and donors. Harmon and his colleagues were chosen to keep things running smoothly.
"It is still unbelievable," Harmon said. "The whole experience was fun, and seeing how all of the pieces came together; there's so many pieces moving."
On the day of the game, Harmon wasn't sure what to expect, but was placed in a more "glamorous" role. He was positioned right next to the club level suites. He was able to get a great view of the field, and what goes into an event this size.
"It felt almost natural working there," Harmon said. "Once they gave me a role, I fell right into it."
Harmon felt like he was a part of the game atmosphere as he was navigating fans to where they needed to be. He toured the Tampa Bay stadium by himself so he could get a lay of the land, and could easily help fans through the stadium. He made sure fans could trust him if they had a question and to diffuse situations that may have arose if fans were frustrated.
Harmon's advice for people who are interested in a role similar to his is to go after it. He thinks those interested in operations, sports information, sports management or marketing should focus on what they want to do, take opportunities, and should do whatever they can to get that role.
"Even if the role isn't the greatest, it always gets better. People see you going for small roles," Harmon said. "The positions that people think are not worth their time, I would say it's always worth your time to go for anything that can get your foot in the door."
After seeing the game day side, it has convinced Harmon that Athletic Administration is where he wants to stay. He hopes his Super Bowl experience becomes a good talking point in future interviews.
His role as the Marketing Assistant at ISU led him to this opportunity. His experience during game days with the Bengals and getting to see this side of sports is the best place for him.
"Putting on a good show for fans, seeing how fired up they get, and the players love it, too," Harmon said. "This is kind of the role I want to stick with."
Harmon explained that seeing what the NFL did with the game and the fan experience in terms of COVID-19, gave people hope that we may be returning to normal soon. Even though things were limited and they were taking COVID precautions, he said it was good to see that there is a light at the end of the tunnel and things would return to normal.
"It kind of felt like everything was starting to get back to normal a little bit since COVID started," he said. "It was cool to see that. It was fun seeing how excited the fans were."
After ten days at one of the biggest sporting events in the world, Harmon is using this experience in his role as the ISU Marketing Assistant, and is helping ISU athletics in any way he can.
"It was phenomenal. It is hard to describe because not many people get the chance to go to the Super Bowl," Harmon said. "It was unbelievable, and hopefully I can get the chance to do it again in the future."
---
Categories: