Graduating Business Student Earns Most Prestigious Award Available in Future Doctoral Program
April 12, 2021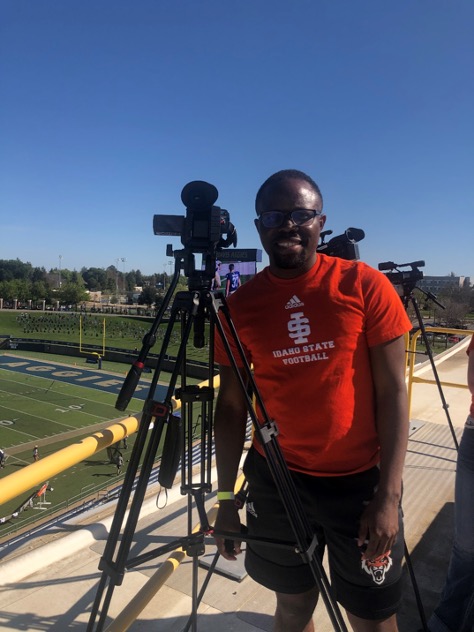 Idaho State University Master of Business Administration (MBA) student, Kemardo Tyrell was recently named a Presidential Fellow at the University of South Carolina (UofSC) where he will pursue a Ph.D. in sport and entertainment management this fall. The Presidential Fellowship is the most prestigious university-wide award available to UofSC graduate students.
"It's definitely an ecstatic feeling as it represents the commitment and hard work over the years in my academic and professional life," said Tyrell. As part of the Fellowship, Tyrell will earn a yearly stipend in addition to the opportunity to foster relationships with doctoral and master of fine art students and leadership throughout the UofSC.
Tyrell, a native of Saint Mary, Jamaica is no stranger to hard work. In addition to completing his MBA at Idaho State this spring, he already holds a graduate degree in operations management from the University of Arkansas College of Industrial Engineering, as well as an undergraduate degree in information systems from Notre Dame.
Throughout his life, Tyrell has overcome numerous hardships that without his perseverance may have otherwise limited his opportunities in life.
"One of the proudest moments in my life was being a first-generation university graduate," said Tyrell who credits his single mother for providing him the resources to obtain his education. "The harsh reality of growing up in poverty and losing my father at the tender age of five years old, as well as the sudden death of my only sister amounted to unfortunate situations with the potential to create enormous roadblocks that could have led to the unavailability of adequate resources to ease the burden of success in life," said Tyrell. He explained that despite these difficult circumstances, he has found positive aspects gleamed from these experiences. "These experiences have fostered a culture of dedication and the utilization of creative methods to attain success regardless of the limitations that exist."
Tyrell said he also feels that his education at Idaho State and the College of Business has made an enormous contribution to his success in earning the Fellowship, especially the relationships he has developed with a diverse group of faculty, staff and students from around the world at Idaho State.
"The outstanding qualifications of faculty members – academic and professional – in various expertise have significantly enlightened and increased my aptitude for the examination of problems in the business and sport domain, both from a quantitative and qualitative perspective," he said. "As a student at Idaho State University, conducting research and my involvement in development projects through experiential learning has contributed to the holistic educational experience that is propitious towards my professional aspirations through the conveyance of conceptual knowledge, presentations and teaching experience."
"I am forever grateful for the faculty, staff and friends I have encountered during my time at Idaho State, the constant encouragement is what drives me every day to keep moving forward. I can attest to the fact that as a student, you are not just a number within the school community. Everyone takes the time to get to know you, and develop relationships that will last beyond the classroom and time on campus."
During his time at Idaho State, Tyrell has been a competitively selected graduate assistant in the College of Business's Bengal Solutions program as well as a member of numerous student organizations such as the Graduate Association of Business Students, the Finance Association and a tutor. He has also volunteered within the athletics department filming football games.
After graduating from his doctoral program, Tyrell plans to pursue a career in academia, research and consulting.
"[I plan to consult] with sports organizations for the utilization of advanced analytical approaches to issues in the sport and entertainment industry, which is critical to the continuous development of the economy in a world that thrives on the contribution of sports," he said.
---
Categories: