Finding a Piece of History
February 26, 2021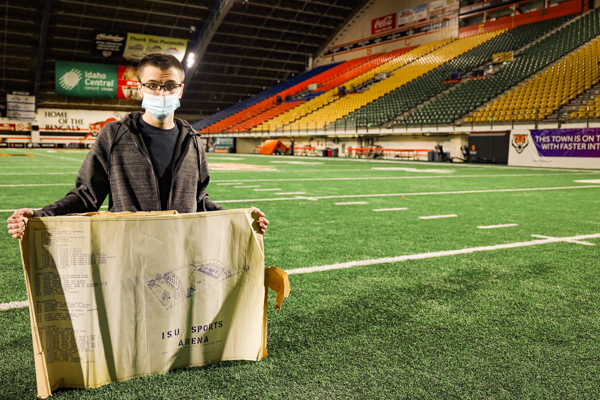 Student Alex Jensen found the original blueprints for Holt Arena treasured by his grandfather for decades.
ISU student Alex Jensen never imagined that his family would come across some of the original blueprints of Holt Arena when they were going through his grandpa's belongings.
Jensen's grandpa, Vern S. Jensen, was one of the heavy equipment operators who worked on Holt Arena when it was being built over 50 years ago.
"They had 20 sets of blueprints they were going to throw away," Jensen said, "but my grandpa kept his because of all the memories he had working on Holt Arena. They meant something to him"
Vern was part of building Holt Arena from start to finish. He passed away in 1990 in a plane crash.
"If he was here, I think he would be very happy to share his story," Jensen said.
The blueprints, which are still in good condition, show that a lot of the original design of Holt Arena is still intact.
Upon finding the blueprints, Jensen and his family didn't know what to do with them and thought about throwing them away. But Jensen knew they were an integral part of not only ISU's history, but his family's history as well.
"My grandpa would be ecstatic to know what a big part of history Holt Arena is," Jensen said. "The fact that ISU still prides itself on Holt Arena is really cool."
Vern specialized in operating machinery, and according to his grandson, he could operate just about every kind of machine.
"He was a pilot, a truck driver, a heavy equipment operator and could drive most military vehicles," Jensen said.
Apart from operating heavy machinery, Vern was also active in the Pocatello community, having lived in Pocatello for most of his life.
"My grandpa helped a lot of people," Jensen said. "He led a troop of boy scouts and flew planes. He had a lot of good relations with people. He was a universal figure in a lot of people's lives."
Jensen and his family are donating the blueprints to the ISU archives located in the Eli M. Oboler Library.
---
Categories: