College of Business Gains a Second Sales Program Scholarship Thanks to Aflac
January 29, 2021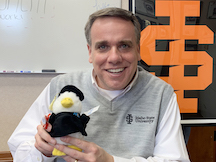 The College of Business at Idaho State University has announced its second endowed sales scholarship. The 'Aflac Excellence in Sales Scholarship Endowment' will benefit College of Business students pursuing the newly established Professional Selling Certificate.
"I am extraordinarily thankful for the generous commitment Aflac has made to our sales program," said Dr. Shane Hunt, Dean of the College of Business. "Aflac is an outstanding organization that shares our commitment to teaching, mentoring and preparing the next generation of great salespeople here at Idaho State University."
The program will be offered to students enrolled in any Idaho State major beginning in the fall 2021 semester. Students completing the curriculum will receive a nine-credit certificate in sales
"We want to thank Idaho State University for this wonderful opportunity," said Aflac Marketing Director Jaime Gaudet. "Aflac is committed to fostering leadership and development in our sales program and to the future of the sales profession. With this new addition to a focused sales curriculum, there will now be an opportunity for students to learn from and engage with experts in the field. Aflac is excited to help students gain the skills needed to be successful in all areas of their life while also propelling their sales career."
In addition to the professional curriculum, each semester top students will have an opportunity to interview with Aflac for potential employment. Aflac sees this as a win-win for students and for the company.
"We are always searching for top talent. Our team looks forward to sharing the opportunity for a career in sales with a Fortune 500 company. We also look forward to showing real-life examples of how we have helped our policyholders by providing financial protection when it was needed the most. Equally important is the opportunity to partner with Idaho State in helping our community grow and thrive," Gaudet said.
In addition to the new Aflac scholarship, over the past several months, the College of Business has received great support from alumni and friends. The College is especially excited to build a foundation of financial support for students interested in pursuing the new certificate offering in sales. The first scholarship to benefit students in this program was established in November by alumnus Don Zebe and his wife Cyndee. Students will be able to apply for these scholarships and others in the Bengal Online Scholarship System (BOSS).
About Aflac Incorporated
Aflac Incorporated (NYSE: AFL) is a Fortune 500 company, helping provide protection to more than 50 million people through its subsidiaries in Japan and the U.S., where it is a leading supplemental insurer by paying cash fast when policyholders get sick or injured. For more than six decades, insurance policies of Aflac Incorporated's subsidiaries have given policyholders the opportunity to focus on recovery, not financial stress. Aflac Life Insurance Japan is the leading provider of medical and cancer insurance in Japan where it insures 1 in 4 households. For 14 consecutive years, Aflac Incorporated has been recognized by Ethisphere as one of the World's Most Ethical Companies. In 2020, Fortune included Aflac Incorporated on its list of World's Most Admired Companies for the 19th time, and Bloomberg added Aflac Incorporated to its Gender-Equality Index, which tracks the financial performance of public companies committed to supporting gender equality through policy development, representation and transparency. To find out how to get help with expenses health insurance doesn't cover, get to know us at aflac.com or aflac.com/espanol.
---
Categories: