Idaho State Students and Community Partners Collaborate to Deliver Over 12,000 COVID-19 Vaccines Statewide
June 7, 2021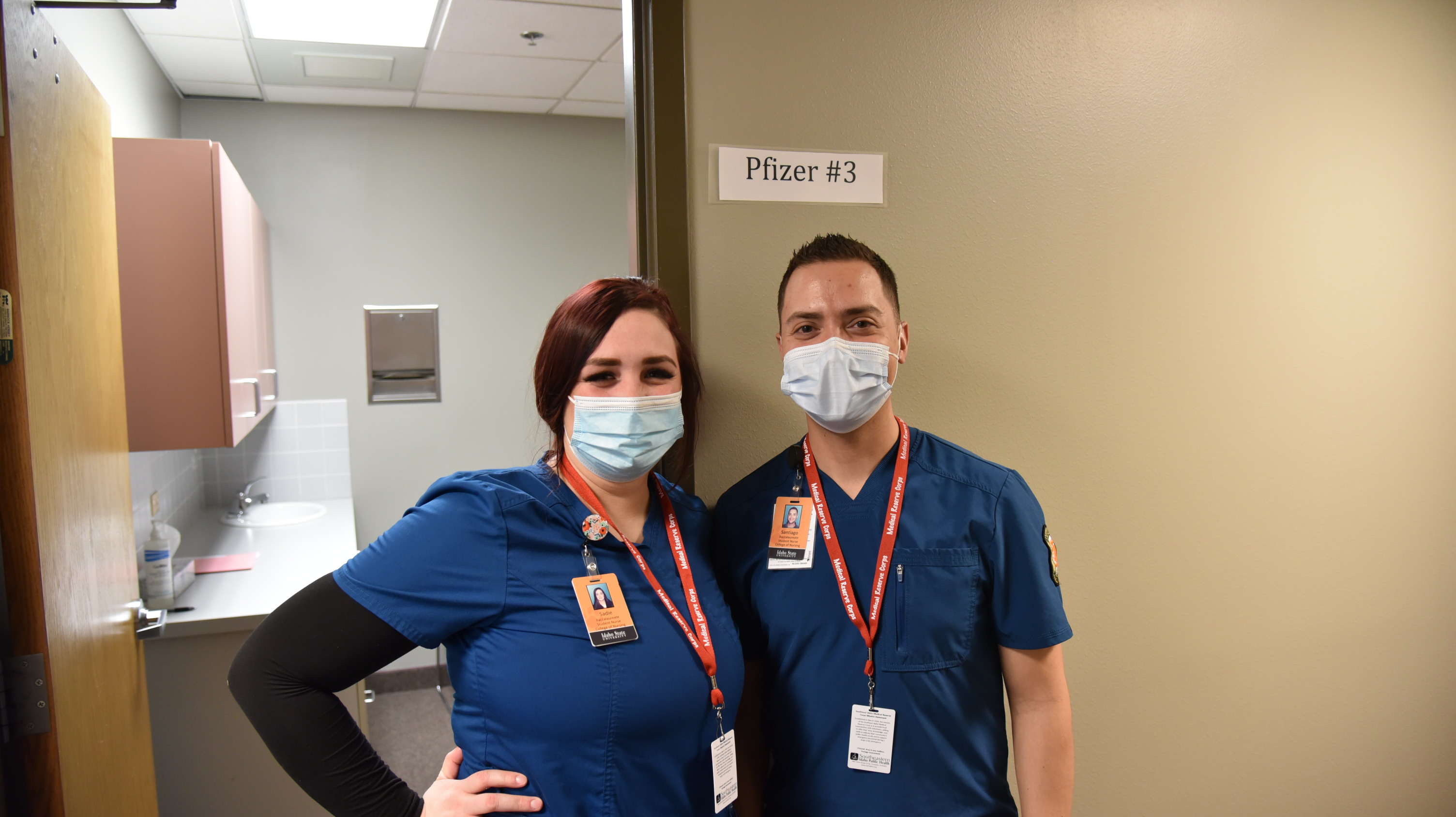 In a collaborative effort to mitigate the continuing spread of COVID-19 in Southeast Idaho and Meridian areas, a multitude of agencies came together in record time to administer over 12,200 COVID-19 vaccinations on ISU campuses in just a few weeks.
To do this in Southeast Idaho, Southeastern Idaho Public Health (SIPH), Portneuf Medical Center (PMC), Idaho State University (ISU) and Southeast Idaho Medical Reserve Corps (MRC) formed a unique, interprofessional alliance. Together, the agencies ran a vaccination clinic from Feb. 25 to May 21, 2021. In total, 10,029 vaccines were given.
In Meridian, Idaho State received support from Albertsons Pharmacy to operate a vaccine clinic at the ISU campus each Friday from March 5 through April 16. Vaccines administered at the site totaled 2,293.
"Working together strengthened each of our individual entities in a way that allowed us to provide the best possible care for those wishing to be vaccinated. This spirit of collaboration and interprofessionalism are powerful principles that we instill in our students as well," said Dr. Rex Force, vice president for the Kasiska Division of Health Sciences at Idaho State.
In Pocatello in early February, and without hesitation, Portneuf Medical Center personnel granted the use of their Sports Medicine Building near Holt Arena to serve as a vaccine clinic, allowing SIPH facilities to continue (mostly) normal operations. Minimal adjustments were needed, as the building previously housed a sports medicine and orthopedic clinic. The location proved to be the perfect spot for vaccine administration after being equipped with telephone and internet capabilities in a joint effort by SIPH and ISU Information Technology Services.
SIPH nurses worked alongside ISU student nurses and student pharmacists to administer the bulk of the vaccines, while student dental hygienists, PAs, Family Medicine resident physicians and even undergraduate health sciences students provided assistance as well. In all, over 130 ISU students, faculty and staff volunteered their time to administer the vaccines, help with patient check-in, set up the site and assist with post-vaccine monitoring. University Health Center nurses, and staff from ISU Marketing and Communications, Facilities, Public Safety and Emergency Planning also provided support.
Others involved from SIPH included officials and staff from their Public Health Preparedness, Customer Services, and Clinical Services teams. Health officials contributed countless hours planning the vaccination effort, monitoring vaccine delivery and distribution schedules, and adapting to unexpected changes in real time.
Most of the post-vaccine monitoring was conducted by volunteers from Southeast Idaho MRC. The group is made up of people from a variety of health backgrounds, many of whom are retired. Taking the strain from already taxed nurses and physicians in the SE Idaho health system, these volunteer health professionals were able to provide valuable, informed medical guidance for patients after they received their vaccine, including monitoring for any rare but potential side effects.
Similarly in Meridian, Albertsons Pharmacy provided pharmacists, pharmacy technicians, and COVID-19 vaccines for each of the clinic days. Support from ISU-Meridian included 65 faculty, staff and students. Volunteers participated from nursing, PA, medical laboratory sciences, pharmacy, public health, physical therapy, educational technology services, library, and administration offices. Two representatives from the Idaho Board of Pharmacy also volunteered their time.
The ISU-Meridian clinic space was ideal for the vaccination workflow that allowed for an efficient and safe process for the over 400 patients each week. Multiple departments and programs offered their assistance, including many individuals from the administration level who helped with legal support, clinic workflow, coordinating parking, signage placement, and providing logistical support in the building.
The combined efforts didn't go unnoticed by patients. One patient wrote a letter of appreciation, saying, "This is just a thank you note to express my appreciation for all that has been done regarding the ongoing virus vaccination effort. I received my second injection and the process was well conducted as was my earlier visit. I feel the service to be as well conducted as can be expected and hoped for. The visits have been efficient, dignified, and of value- and this despite the ongoing emergency. Thank you for what is being done as this ongoing uncertainty continues. You are a bright spot."
Maggie Mann, Southeastern Idaho Public Health Director, agrees.
"Our agencies are linked to the communities we serve, and we are grateful and excited to have been able to join forces. This important collaboration with our local agencies demonstrates our commitment to working together to beat this pandemic," Mann said.
If you would like to learn more about how to get your COVID-19 vaccine, visit https://www.siphidaho.org/covid19-vaccine-clinics.php
---
Categories: