University Remembers the Transformational Leadership of President Davis
October 11, 2021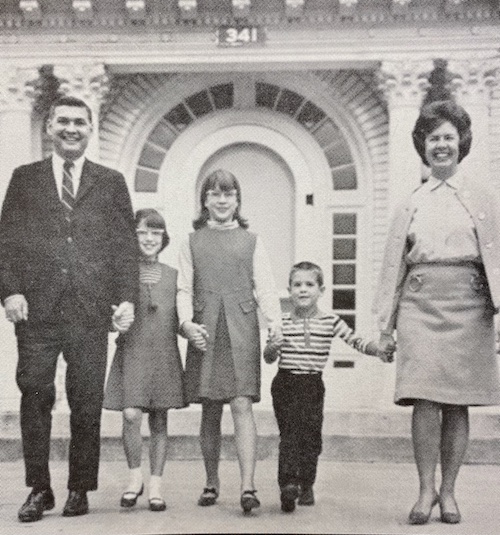 From navigating the political unrest of the 1960s and 1970s to overseeing the construction of the first enclosed stadium on a college campus, the mark left by President William Eugene (Bud) Davis can still be felt at Idaho State University more than 50 years later. Davis, who served as Idaho State's president for more than ten years, died September 24, 2021 at the age of 92.
Davis was named the president of Idaho State in 1965 at the age of 36, and was one of the youngest university presidents in the country.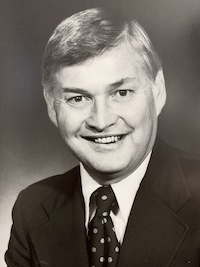 After being named president, Davis said, "Since the announcement of my appointment, phone calls and letters had led to the suspicion that the news had not been greeted by dancing in the streets. Some reports indicated the reaction was more like climbing the ivy walls. I could well understand that my credentials might be suspect in academe."
Although he brought a successful higher education career to the position, Davis took a less-traditional path to his presidency, serving as a high school English teacher and coach before becoming alumni director and interim football coach at University of Colorado and later an executive assistant to the president for student affairs at University of Wyoming.
Davis's humor and resilience were powerful assets during his administration. When confronted with the sit-ins and protests common on college campuses in the 1960s, he not only kept order, but many students who demonstrated against him in his office later worked on his campaign for the U.S. Senate, a race he narrowly lost to James McClure.
Davis became president at Idaho State just two years after the institution gained university status. During his ten-year presidency, Idaho State's enrollment increased 75 percent. The number of faculty also increased from 172 to 228 in his first two years as president.
In 1966, Idaho State was also officially designated as "the state center for pre-medical, life sciences, and medically-related education by the State Board." Today, Idaho State has not only continued to be a statewide leader in health sciences, but is known nationally for creating a skilled, well-rounded medical workforce.
Davis's presidency focused on growing programs and expanding academics. His tenure brought the beginning of a Master of Business Administration program, engineering programs, and a six-year program in counseling and school administration, to name a few highlights.
At Idaho State, Davis also oversaw the competition or start of more than $25 million ($200 million in 2021 dollars) worth of enhancements and construction projects that doubled campus building square footage. Those projects included the Business Administration Building, Fine Arts Building, Hypostyle, Garrison Hall, Turner Hall, Pulling Courts, Schubert Heights, two expansions to the Student Union Building, and of course, Holt Arena. Davis also dedicated the pillars on the top of Red Hill.
On Idaho State's Pocatello campus, Davis Field is named in his honor. The outdoor venue formerly known as the "Spud Bowl" was originally a football stadium. It is now host to women's soccer and track and field. In 2020, it underwent a $7.1 million renovation to widen the soccer field to meet NCAA requirements, add LED lights, replace the bleachers, and add a digital video board.
Personal Life
Davis was born February 15, 1929 in Wamego, Kansas. He grew up in rural Kansas and moved to Loveland, Colorado with his family when he was 16. Upon arriving in Colorado in 1944, he met Pollyanne Peterson and promptly informed her she would be his future wife. After high school graduation, Davis followed Pollyanne to the University of Colorado. Seven years after arriving in Colorado, Bud and Polly were married in 1951.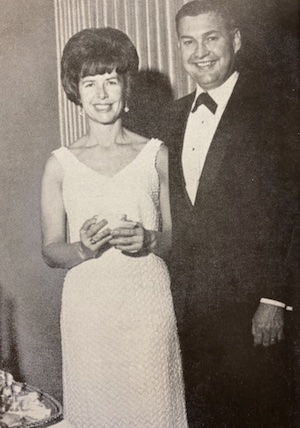 Davis earned a Bachelor of Science degree in Physical Education and English in 1951. He joined the U.S. Marine Corps that same year and attended Officers Candidate School in Quantico, Virginia. He later served as a platoon leader in Korea and Japan from 1952-1954.
From 1954 to 1959, Davis worked as an English teacher and coach in both Colorado and South Dakota. The high school track team he coached won the Colorado State Championship in 1955 and his football team the Colorado State Championship in 1959. Davis earned his masters degree in 1959 from the University of Northern Colorado and returned to the University of Colorado in 1960 to serve as Alumni Director and begin his doctoral studies in Higher Education. He was hired as CU's head football coach in March of 1962. After earning his Doctorate in Higher Education in 1963, he was hired as Executive Assistant to the President for Student Affairs at the University of Wyoming in Laramie.
While serving as president of Idaho State, he took a temporary leave from his academic post in 1972 to run for the U.S. Senate and won the Democratic nomination. He lost in a close general election to Republican James McClure. In 1975, Davis left Idaho State University to be president of the University of New Mexico. Later, he was named Chancellor of the Oregon State System of Higher Education from 1982-1988. In 1989, he was appointed Chancellor of Louisiana State University where he served until 1997.
Davis was a prolific writer, and during his career produced nearly 200 published manuscripts, short stories, magazine articles, scholarly articles, and biographies. He also published a total of nine books, including a two-volume definitive history of the University of Colorado, Glory Colorado (Volume One): A History of the University of Colorado, 1858-1963, and Glory Colorado (Volume Two): A History of the University of Colorado, 1963-2000. He also published Miracle on the Mesa: A History of the University of New Mexico. Davis had a wonderful sense of humor and often told and laughed at his own experiences with deep humility. His humor, his commitment to service to others, and his joy and adventures as a father are represented beautifully in his collection of short stories published in his book Nobody Calls Me Doctor.
Davis was preceded in death by his wife Pollyanne Peterson Davis.
A memorial service will be held for Bud and Polly at 10 a.m. (MT) on Friday, October 15, at Central United Methodist Church in Albuquerque, New Mexico. Memories are welcome on the Neptune Society website. Personal messages may be sent to the family at budandpollymessage@yahoo.com.
---
Categories: