University Mourns the Loss of a Longtime, Valued Team Member
September 30, 2021

Dee Rasmussen, a longtime member of the Idaho State Bengal family, passed away over the weekend. Dee first came to the University in 2009 to work in Facilities and was promoted to the position of Zone Maintenance Manager in 2017.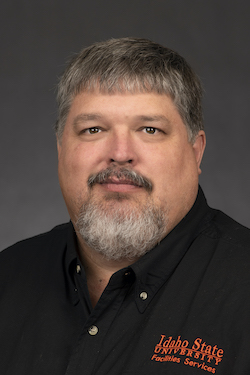 The University has been in touch with Dee's family and asks each of you to keep them in your thoughts during this very difficult time. Dee was incredibly kind and known by his colleagues for always working hard to better the University. His work family will remember his constant willingness to provide help and expertise, and to those he supervised, he was a trusted leader and friend.
Dee's obituary is available online.
The news of Dee's passing may come as a shock, and it can be difficult to process. The ISU Counseling and Testing Center has put together a resource guide to help those coping with this loss. To receive additional mental health support in dealing with this loss, please remember that all benefit-eligible employees have up to five free counseling sessions during each benefit year through our Employee Assistance Program (EAP). To utilize EAP services, contact the University's EAP provider, ComPsych at 1-877-427-2327, or visit their website for additional details.
---
Categories: