Students and Staff Honored for Performing CPR, Saving a Life
December 3, 2021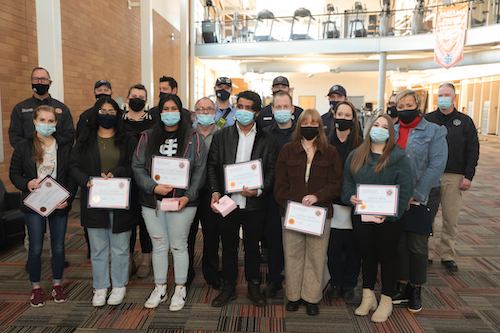 When paramedic Matt Hendricks arrived on a call to the Idaho State Student Recreation Center for a cardiac arrest patient in October, he was surprised and grateful at what he saw.
Several students and staff at the Recreation Center were performing CPR, and were using the facility's AED (automated external defibrillator) to attempt to resuscitate the patient, who had collapsed moments earlier.
Hendricks said that their skills and calmness under pressure saved the patient's life. Within 10 minutes, paramedics were able to find a pulse again, and the patient has made a remarkable recovery. In situations such as this, it's not always the case, Hendricks said.
"We responded to what I would say was picture-perfect bystander CPR," he said. "I credit their actions with saving this person's life."
On Friday, the Pocatello Fire Department presented students Emily Turpin, Erika Lazaro, Jenifer Jaurez Garcia, student employees Sansar Kharal, Lauren Smith and Jessica Moss, and Campus Recreation staff Shelby Williams and Karen Homstad with Citizens Life-Saving Awards for their efforts.
Homstad said she was proud of everyone involved. She said being prepared, and learning where important tools like the AED are stored made a difference.
"I was so impressed by the response. So many things went right," Homstad said. "He's so grateful. We're so grateful."
Pocatello Fire Department Community Risk Reduction Specialist Kim Stouse said the actions of the students highlight the importance of taking the initiative to help someone in distress, even if you are concerned you can't do it perfectly.
"It changed the outcome of this situation," she said. "It only takes one person to act, and others will come to help."
---
Categories: