Long-Time Accounting Professor Receives Professorship
October 22, 2021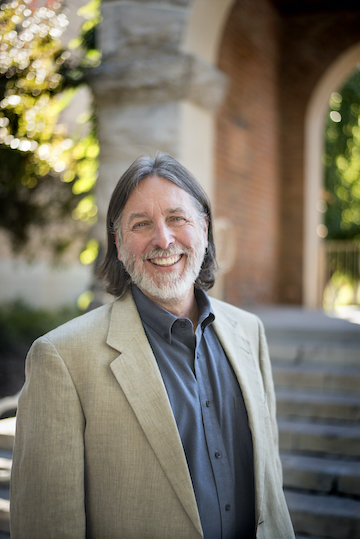 The College of Business is pleased to name Dr. Bob Picard this term's Nelson Family Professor and recipient of the Nelson Family Charitable Trust Endowed Professorship in Accounting.
This professorship was the College of Business's first and was established by alumni Bruce and LaVaun Nelson in 2013. Bruce, a 1968 accounting graduate was the former Chief Executive Officer of Office Depot and LeVaun graduated from Idaho State's nursing school.
Picard has been with the College of Business since August of 1994 after graduating from the University of Kentucky with his Ph.D. He recently took on the role of accounting department chair and has spearheaded the efforts toward preparing for the accounting department's reaccreditation visit from the Association to Advance Collegiate Schools of Business taking place this winter.
Picard is not new to leadership roles within the College, however. Throughout his tenure, Picard has served as the Master of Business Administration Director from 1998 – 2000, the Accounting Department Chair from 1999 – 2012, as well as the Associate Dean and Department Chair from 2000 – 2002.
"Whenever the Idaho State accounting program comes to my mind there are two individuals who have stood out over the years as instrumental in the reputation and the quality of the program – Ken Smith and Bob Picard," commented College of Business alumnus and Office Managing Partner at KPMG in Boise, Mike Hayhurst. "Bob has been in pretty much every role within the accounting department throughout his career there and has consistently shown an amazing ability to connect with the students as well as alumni in industry and the accounting profession. As a result, he has kept the program relevant for the students and employers." Hayhurst has worked closely with Picard for nearly 30 years on recruiting efforts, the development of the annual Accounting Career Vision Symposium and as a member of the Accounting Department Advisory Board.
Prior to his time in academia, Picard worked in a variety of roles including the Treasurer and Antarctic Base Logistics Coordinator for the 1990 Trans-Antarctica Expedition. He also served as Vice President and Chief Financial Officer for Towle Companies in Minnesota, a Supervising Senior Auditor at the Big Four accounting firm, KPMG and on the Board of Directors for the Minnesota Outward Bound.
"Over the course of a long career, you develop a small number of close relationships with trusted advisors who you can rely on to 'tell it like it is'. Bruce Nelson has done that for me," said Picard. "Mostly, I value our friendship. To be named the Nelson Family Professor is especially rewarding because of my respect and fondness for Bruce, and because of the appreciation it signals from my Dean, Dr. Shane Hunt."
"Dr. Bob Picard is an extraordinary professor, leader and colleague who has been instrumental in building our nationally recognized accounting program," said College of Business Dean, Dr. Shane Hunt. "The culture that Bob has helped build in our accounting department and his outstanding record of teaching, research and service make the Idaho State University College of Business better in every possible way."
---
Categories: