Idaho State University Homecoming Winners Announced
September 2, 2021

Idaho State University Alumni Association is honored to announce the 2021 Homecoming Award Recipients.
Recipients will also be formally recognized by President Kevin Satterlee at the President's Alumni Recognition Dinner at 7 p.m. Friday, Sept. 24, in the ISU Pond Student Union Ballroom. A reception will begin at 6 p.m.Cost is $65 per person. Reservations are required. Contact (208) 282-3730 or alumni@isu.edu. Visit isu.edu/alumni for more information.
Idaho State University will also recognize the Homecoming award recipients during the halftime program on Sept. 25 as the Bengals play Sacramento State at Holt Arena.
1970 Football Team
Parade Marshals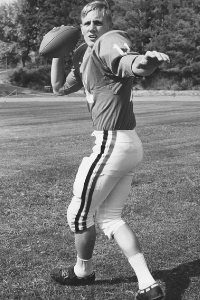 The 1970 football team was the first team to play in the newly constructed "Minidome," beating UNLV 64-34 on September 26, 1970.
Several members of the team have brought significant notoriety to Idaho State, including Ed "The Flea" Bell and Jerry Dunne. Bell was recognized in the ISU Sports Hall of Fame in 1980 and Dunne in 1981.
Captains for the 1970 Football Team include Larry Chandler, Jerry Dunne, Steve Mandelkow and Tyrone Watley. The team ended their season with a (5-5, 3-2) record.
The 1970 football team left it all out on the field, and their accomplishments at Idaho State University are legendary. These men became teachers, health professionals, public service representatives, and ISU advocates and we are all grateful for each of the 1970 players and the legacy they have built for our Idaho State Bengals.
Roshan Kumar
Young Alumni Award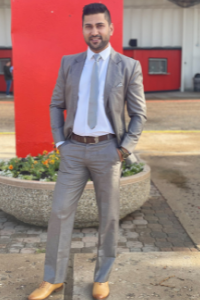 Roshan Kumar arrived in Pocatello, Idaho, from Nepal in 2011 to study at Idaho State University.
Kumar acquired what used to be the Persian Bazaar located in the same building as Goody's Deli and converted it into the Himalayan Craft and Smoke Shop, which opened in 2017. He spent two years studying at ISU before moving to California in May 2013 to get real-world job experience. Kumar returned to Pocatello to resume his education in August 2015 and earned his degree in accounting and finance in December 2016.
After graduation, Kumar bought Nosh Mahal, a restaurant, in August 2018. He changed the name, and now operates Himalayan Flavor. His restaurant proudly offers some of the finest and authentic Indian and Nepali cuisines in the region. Kumar's business continues to grow. Another Himalayan Flavor restaurant opened another location in Logan, Utah in June 2021.
Kumar has always been a supporter of ISU tailgates, student groups on campus and employs ISU students at his businesses.

Amy C. Avila

ISU Distinguished Service Award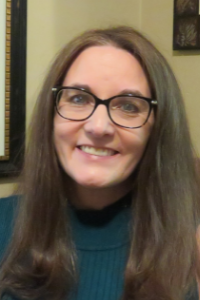 As a non-traditional student at ISU, she completed the office occupations program in the College of Technology in 1987, and in 1994 she received her Bachelor of Arts degree in general studies with a focus on human behavior and criminology. While pursuing her undergraduate degree at ISU, she had a summer internship in the Bannock County Court Administrator's office. This helped her obtain a position with Bannock County, where she worked for 18 years, first as a deputy clerk in the Auditor's office and then as an eligibility worker and accounts manager in the Indigent Services office. During that time, her son also attended ISU for both his undergraduate and graduate degrees. Amy Avila is the sole support staff in the Department of Mathematics and Statistics. In her role, she supports 27 faculty members, eight adjunct instructors and several student employees in Pocatello and Idaho Falls. Amy has worked at ISU since 2013, but Idaho State has always been part of her life. As a child, she spent a lot of time in the art department while her mother pursued her fine arts degree, and she attended kindergarten and first grade in the College of Education when ISU had a limited grade school program.
Avila is committed to helping students succeed. She knows the difference an Idaho State education has on students and their families, and she enjoys working with the faculty in her department to ensure every student has the opportunity to grow and succeed. Avila says Idaho State feels like home.
James W. Mahar and Dr. Carol L. (Bowser) Mahar
ISU Achievement Award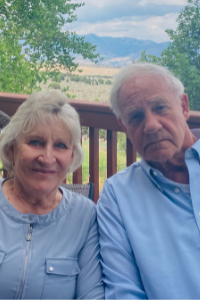 Jim Mahar came to Idaho State University from Rochester, New York on a football scholarship in 1962. He had never been west of Buffalo, New York and immediately fell in love with the west, including tumbleweeds, sage brush, Red Hill, and Carol (in 1964). Carol, a Pocatello native, attended the University of Hawaii for a year, surfed a lot, and returned home to attend Idaho State University. They met through a mutual friend and got to know each other well as they walked on all their dates because neither had a car. They married in February 1966 and earned their degrees - Jim in geology and Carol in education. She taught school while Jim earned a master's degree in geology from Colorado State University.
They then moved to Urbana, Illinois where they became parents and Jim completed his Ph.D. in engineering geology at the University of Illinois. His career as an international consultant on large construction began while he was a graduate student and continues to this day. Some of his projects include the Washington D.C. Metro System; Atlanta and Los Angeles Subways; water supplies in Canada; a sanitary sewer system in Alexandria, Egypt; the Olympics' subway in Athens, Greece; an outflow tunnel in New Zealand; and many more.
The Mahars started and own Geotechnical Consultants, Inc. in Savoy, Illinois. While Jim traveled the world evaluating rocks and dirt in varied environments, Carol raised their two daughters, played tennis, tutored athletes, taught elementary grades and high school, earned a Ph.D. in educational statistics, taught at the University of Illinois, and worked in university administration.
Carol and Jim returned to Pocatello in 2000 where Carol became an Assistant Dean for development in the College of Business at Idaho State University. In 2003, Jim became a faculty member in the Departments of Civil and Environmental Engineering and Geosciences. Carol and Jim have each won numerous academic and professional awards in the past.
Carol retired in 2009 and in addition to her grandchildren, she enjoys traveling, playing cards and pickleball, boating, hiking, biking, book club, and taking classes at ISU through New Knowledge Adventures. Jim loves to garden, fly fish, and attend ISU and high school sports events. Above all, their favorite activities include spending time together, laughing, being with grandchildren, and hanging out at their cabin in Island Park, Idaho.
The Mahars have enjoyed living in Idaho, Colorado, Illinois, and Washington, D.C. where they had many adventures. Now, they are grateful to be back in Idaho, close to ISU where they met. They are grateful for family, friends, mentors, colleagues, and church activities.
Larry and Liza Hinderager
William J. Bartz Award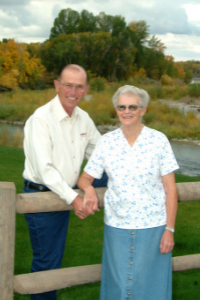 Larry Hinderager grew up on a cattle ranch near Great Falls, Montana, attended Purdue University, and graduated in 1956 with a Bachelor of Science degree in chemical engineering. After living and working for brief periods in Washington and Nevada, Larry went to work for J.R. Simplot Company in Pocatello in 1964.
Larry and his wife Liza moved to Blackfoot in 1973, where they raised cattle until 2005. Larry spent 30 years as president of two different irrigation companies and two years as chairman of Water District 27. He was deeply involved in the adjudication of Idaho Water Rights. In 2000, Larry and Liza received the Idaho Grassman of the Year Award.
Larry retired in 1998 as President of the Simplot Minerals and Chemicals Group. He served on the committee that formed the ISU Engineering Advisory Council and later as chairman. He also initiated action leading to the donation of the Simplot Decision Center in ISU School of Business. Larry is a commercial pilot with an instrument rating, an avid photographer, and loves the outdoors. He also enjoys building and has developed several real estate properties near Blackfoot and Island Park.
Eliza (Liza) Robinson Hinderager grew up on a cattle ranch near Red Lodge, Montana. She went to Montana State University in Bozeman and graduated in 1952 with a Bachelor of Science degree in nursing. Liza's first job was as a night supervisor at Deaconess Hospital. Over the years, Liza worked part-time in various hospitals, the last being at St. Anthony Hospital in Pocatello, Idaho, where she was an ICU nurse. Liza is an avid reader and loves to garden.
Liza and Larry got married on the Robinson family ranch near Red Lodge in 1954. The two then lived in Indiana while Larry finished college. Currently, Liza and Larry live on a small farm near Blackfoot. They have three children, seven grandchildren, and five great-grandchildren. They enjoy camping with their 5th wheel RV and riding the Polaris Rzr on mountain trails.
Joseph C. Jensen, Dr. William L. and Doris Brydon, and Dr. Laura Woodworth-Ney
President's Medallion
Joseph C. Jensen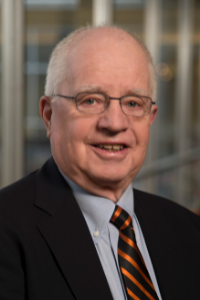 Joseph C. Jensen enrolled at Idaho State in 1961. As a student, he served as senior class president, chapter president of the Blue Key national honors fraternity, student body government finance committee chair, and French club president. He earned a Bachelor of Arts degree in French and went on to earn an MBA from Dartmouth's School of Business. After Dartmouth, Jensen started his distinguished international career with Pfizer, working in England, Belgium, Portugal, Africa, and India.
For the past two decades, Jensen has served on the ISU Foundation Board of Directors, including a term as its president. His efforts were key in moving the Idaho Museum of Natural History to a new level of support and community engagement as chair of the Natural Heritage Project advisory board.
The Jensen Grand Concert Hall in the Stephens Performing Arts Center bears his name. Joe and his late wife Cheryl's generous support led to the completion of the facility, which is widely recognized as one of the best venues in the country. The Jensen Grand Concert Hall seats 1,200 and incorporates state-of-the-art acoustical technology to optimize sound and theatre experiences for audiences in a wide range of performances. The venue opened to the public in 2004.
Jensen passed away in July 2021, but his impact will be felt for generations to come.
Dr. William L. and Doris Brydon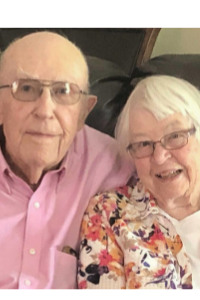 Bill and Doris Brydon met at German Club at Idaho State College. After graduating from ISC in 1952, they attended Washington University in St. Louis. Doris studied physical therapy and Bill enrolled in medical school.
They married about halfway through their St. Louis journey.
From Seattle, the Brydons moved to Cheyenne, Wyoming where Bill served in the United States Air Force. Then they moved back to Seattle where Bill practiced pediatrics with Group Health Cooperative. Soon good opportunities for a pediatrician opened up in Pocatello. In 1962, Bill and Doris, along with three young children, returned to Pocatello.
Along with two obstetrician friends, Bill and Doris built the Pocatello Women and Children's Clinic.
After awhile, two additional pediatricians were recruited, to create the present-day Pocatello Children's Clinic. Doris continued to practice physical therapy and excelled as the clinic's business manager. Later, she returned to ISU to earn a degree in business finance. In 1985, Bill retired from pediatrics, became board-certified in allergy and immunology, and with Doris as business manager, founded the Pocatello Allergy and Asthma Clinic.
They are longtime supporters of Idaho State. They played an integral role in the construction of the Stephens Performing Arts Center and became named sponsors of the Mezzanine and a point in the star on the floor of its rotunda.
They shared a major interest in lifelong learning and the New Knowledge Adventures organization, the Idaho State Civic Symphony, theoretic plays, duplicate bridge and spending time with family and friends. Bill and Doris have three children, three grandchildren, and great-grandchildren triplets. Bill passed away on June 14, 2020. Doris resides in Pocatello with her family.
Laura Woodworth-Ney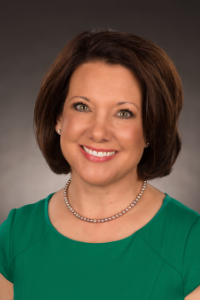 Laura Woodworth-Ney has 30 years of experience in higher education, including roles as an academic administrator, tenured professor, writer and consultant. She currently serves as a senior consultant for Summit Solutions, a higher education consulting firm.
Her previous appointments include executive vice president and provost, provost and vice president for academic affairs, associate vice president for academic affairs, chair of the department of history and co-director of women studies at Idaho State University.
Tammy D. Halstead
Distinguished Alumnus Award
Tammy Halstead grew up in Idaho Falls and graduated from Idaho Falls High School. She graduated from Idaho State in 1985 with a Bachelor of Business Administration degree in Accounting. She served on the College of Business Leadership Board from 2003 to 2016 and the ISU Foundation Board of Directors. In 2001, Halstead received the ISU Professional Achievement Award for the College of Business. In 2012, Halstead was instrumental in initiating and organizing the Master of Accounting Endowed Chair Class Challenge. In 2016, she led a Leadership Board campaign to fund the data center for the Technology, Teaching and Learning Center located at the Business Administration building.
Halstead served in various finance and accounting roles in publicly traded as well as tech startups in the Puget Sound region. She helped take companies public and played a primary role in numerous mergers and acquisitions. Tammy served as Chief Accounting Officer and Chief Financial Officer with InfoSpace, Inc. She began her career in public accounting at Ernst & Whinney (now Ernst & Young LLP). Tammy served in finance and senior management roles at other companies including GoGoMobile, USWeb, Cosmix,Inc. (acquired by USWeb) and ConnectSoft Inc.
Halstead serves on various non-profit boards as a community volunteer or mentor with organizations including Pawsitive Alliance, Washington CASH, the Grameen Foundation and City Year Seattle. She retired in 2003 and now focuses on volunteering, golf and travel. She and her husband, Sanjay Menon, live in Redmond, Washington.
---
Categories: