Idaho State University Confers 1,290 Degrees and Certificates at Winter Commencement Ceremonies
December 18, 2021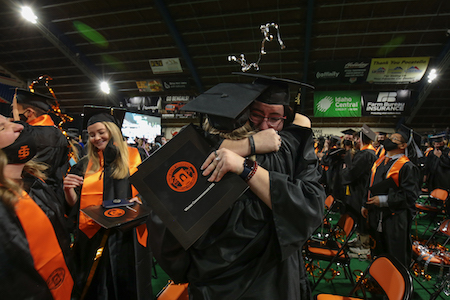 Idaho State University President Kevin Satterlee told the hundreds of graduates at the University's Winter Commencement ceremony that he was proud of how they had weathered adversity and taken on unknown challenges on the road to success.
"You, maybe more than any other class of graduates in recent memory, those who are a part of the Class of 2021, have faced adversity in many ways. I am so proud of the tenacity and Bengal grit that you have shown in the face of these recent challenges," he said. "And today, we celebrate you."
Idaho State University conferred 1,290 degrees and certificates at the ceremony on Saturday in Holt Arena.
Student speaker Heather Ann Larson said she felt pride that she and her fellow graduates had accomplished something great together.
"Our individual journeys and challenges were different, but we were all on the same collective path to summit the mountain of our winter 2021 graduation," she said. "And I have to say, the view really is spectacular!"
Idaho State State Board of Education Board Member Cindy Siddoway urged graduates to spread the word about the importance of higher education.
*I ask you to share your story and join our efforts to encourage more young people to think beyond high school," she said. "We need higher education ambassadors like you to go out and spread the word about why it is so important to have a plan, and to attain a credential after high school."
The ceremony included conferring of degrees by Satterlee. The institutional reader was Barbara Wood Roberts, Graduate School associate director of academic engagement.
Musical selections included "The Star Spangled Banner" and "Alma Mater Hymn" performed by Michaila Mitchell.
---
Categories: