Idaho State Mourns the Loss of William "Bill" McCurdy
October 7, 2021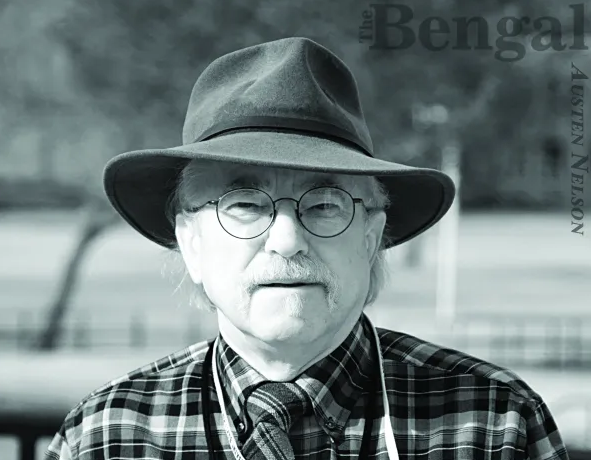 William "Bill" McCurdy, a long-time member of the faculty in Philosophy at Idaho State University, died on Monday, Oct. 4, his 74th birthday.
Born and raised in Pocatello, Bill's connection to ISU was lifelong. As a young boy, he was already making regular visits to campus on field trips from nearby John Greenleaf Whittier Elementary. He went on to study philosophy at ISU as an undergraduate with Bill King and Glen Allen in the 1970s. After earning an M.A. from the University of Hawaii, he lived many years in Japan and Taiwan, teaching both English and Philosophy. He returned to Pocatello in 2000 and soon became a full-time lecturer in Philosophy.
Bill was an outstanding teacher for many years in the Philosophy Program at ISU, where he taught general introductory courses in philosophy and ethics, along with courses in logic and Asian philosophy. He combined a formidable command of the subject with an easy, approachable personality, and his intellectual curiosity and enthusiasm for philosophy were contagious with students, many of whom went on to major in the subject.
"I really admired and envied Bill's ability to connect with students," says Jim Skidmore, his longtime colleague. "Philosophy can seem obscure; it can be hard to get students to see why they should care about the questions we investigate. Bill had such a knack for getting students to see the urgency of these questions and the appeal of trying to answer them rigorously."
Bill's own work in philosophy was characterized by an undaunted intellectual independence. He was drawn to the most difficult, abstract problems in metaphysics, logic, and the philosophy of language, and he was particularly interested in finding solutions to these problems in the work of Charles Sanders Peirce. In recent years, Bill increasingly devoted his attention to developing and sharing his own philosophical work. This took him to conferences across the globe—places like Colombia, Brazil, China, and Japan—where he presented papers interpreting, defending, and applying Peirce's semiotics.
Bill leaves behind many faculty and students grieving his loss. His colleagues will remember his friendly, searching intellectual engagement, his plentiful supply of corny jokes, his love of Japanese art and culture, and so much more. "He was such a positive presence in our department," Skidmore said. "It's a terrible loss for our program, and for so many of us personally."
Memories from Leonid Hanin, Professor of Mathematics and Statistics
The news of Bill McCurdy's passing devastated me. Just a month ago we were planning to check out Hokkaido Ramen, a Japanese restaurant in Pocatello. I knew that without a connoisseur of all things Japanese, as Bill surely was, I would get lost in their menu. Who could have imagined that this would be my last conversation with Bill…
I got acquainted with Bill more than 15 years ago at Oboler library at ISU. Over these years we had more talks, walks and visits to local restaurants than I can remember. Every time we met or spoke over the phone our conversations revolved around philosophy, logic, history, teaching, politics and family. With his characteristic generosity, eloquence and attention to detail, he shared with me his insights into the cultures of the many overseas places where he had lived: Hong Kong, the Philippines, Taiwan and Japan. The last of these – Japan -- was his heart's passion, and during our last phone conversation he told me that he is planning to brush up his Japanese and visit Japan. His fascination with Japan blended naturally with his passion for his two sons from a Japanese wife, his Japanese daughter-in-law, and his grandson.
On the scientific and professional front, Bill's greatest passion was the philosophy, logic, mathematics and semiotics of Charles Sanders Peirce. This led to Bill's strong interest in abstract mathematics -- modern algebra, topology and category theory, subjects we discussed on many occasions. The generosity of his heart was also unsparingly shared with his students of oriental philosophy, logic and other subjects that he taught at ISU.
A Pocatello native, Bill had an unparalleled knowledge of its history. During one of our Friday Art Walks in downtown Pocatello, Bill literally told me the history of every building that we passed.
Bill was a genuine person in all his interests, pursuits and relationships. And, above all, he was a genuine American patriot.
Bill was always on the move – giving talks at international conferences, visiting his family and friends, and hiking in Idaho and the places he visited. It is heartbreaking that his many plans and projects will never be brought to fruition.
---
Categories: