"From Cutthroat Trout to Moose" Lecture Set Jan. 13 at Idaho Museum of Natural History
January 3, 2022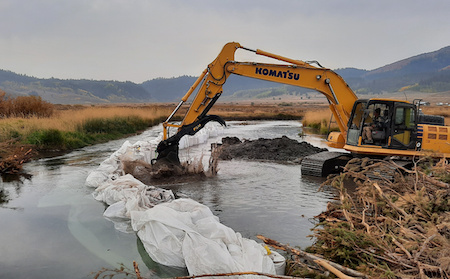 What do excavators and logging trucks have to do with helping cutthroat trout? Find out at the next guest lecture hosted by the Idaho Museum of Natural History on Jan. 13 at 6 p.m.
Carson Watkins, Regional Fisheries Manager for the Southeast Region Idaho Fish and Game, will share the details of a multi-phased cooperative project happening at the Blackfoot River Wildlife Management Area. Learn how creative ideas, innovative tools, and incredible partnerships are being used to restore a river and its cutthroat population while also improving upland habitats for a multitude of species from sage grouse to moose.
Watkins received a Bachelor of Science degree in Wildlife and Fisheries Management from the University of Wyoming and a Master of Science degree from the University of Idaho, where he did research on white sturgeon and redband trout restoration in the Kootenai River in Northern Idaho. Watkins joined Idaho Fish and Game in 2014 as a Regional Fisheries Biologist in Coeur d'Alene where he worked on several large lake fisheries issues and managed wild trout fisheries in the St. Joe, Coeur d'Alene, and North Fork Clearwater rivers. In 2019, Watkins moved south to become the Regional Fisheries Manager in Pocatello where he oversees a program focused on fisheries management and fishing access in the Southeast Region. In his off time, Watkins stays busy trying to keep up with his two young boys—generally fishing, hunting, firewood cutting, and anything else that keeps the family outside. Watkins is also a dedicated houndsman and spends most of the winter months trailing mountain lions behind his pack of Bluetick and Walker hounds.
The Idaho Museum of Natural History has been serving Idaho since 1934. To learn more about the museum, please visit isu.edu/imnh.
---
Categories: