Financial Literacy Program Receives First Scholarship Endowment from Citizens Community Bank
November 1, 2021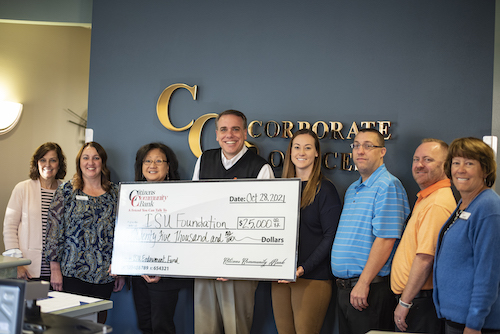 One year after its launch, the Idaho State University College of Business's Financial Literacy Certificate Program has just received its first corporate endowed scholarship thanks to the support of Citizens Community Bank, a division of Glacier Bank.
The Citizens Community Bank Financial Literacy Scholarship Endowment is aimed at fostering the education of students who have financial need and may not have been able to afford their education without assistance. The scholarship is also open to any Idaho State student pursuing the certificate.
"Citizens Community Bank, a division of Glacier Bank, has always believed in giving back to the community, but also to those that struggle financially," said President and Chief Executive Officer, Amy Rhoads.
Through the Financial Literacy Program, the College of Business has developed a community and student-focused platform that is working to provide a resource for greater financial success that is available to anyone. The program features not only a Financial Literacy Certificate for Idaho State students, but has also partnered with the University's Continuing Education and Workforce Training department to offer the certificate to the public. Anyone can also tune into the Bengal Financial Literacy Radio Show that airs once a month on KISU-FM 91.
"It's important to support students pursuing the Certificate because financial literacy is the key to helping them understand their finances," Rhoads said, "But we also want students to think critically about what happens when they take out student loans that they didn't really need? What happens when they graduate with debt and will they make enough to make those payments? We want everyone to be successful once they graduate and get a job, but not be hindered by debt overload."
Rhoads said that it's important to Citizens Community Bank, a division of Glacier Bank to help guide our younger generations toward a financially successful future and supporting a program like this through scholarships is a great way to help alleviate that financial burden and encourage proficiency in personal finance. "We're hopeful that [students pursuing the Certificate] will not only be able to build a savings nest for themselves, but to also be able to discern between the wants and the needs of life and to not live from paycheck to paycheck. The more financial education that can be provided is helpful no matter what your age is. As bankers, we always want to be a resource in building their future."
"In banking, our job is to educate customers on how to manage their finances when they ask," said Rhoads. "We believe in helping people grow, so that they can be successful in their future. We believe in helping businesses grow by lending money to start up a new business or acquire a new business, but it has to start with a plan and a budget and if you don't have either, it may still happen, but will take longer to fulfill that dream."
"Thank you to Citizens Community Bank, a division of Glacier Bank for creating this permanently endowed scholarship and supporting our Financial Literacy Program in the Idaho State College of Business," said College of Business Dean, Dr. Shane Hunt. "Investments like this from Citizens Community Bank will help us improve financial literacy for our students which will then help our economy for generations to come."
---
Categories: