Volunteers celebrate ISU Turner Day by clearing, maintaining Red Hill trails
March 13, 2020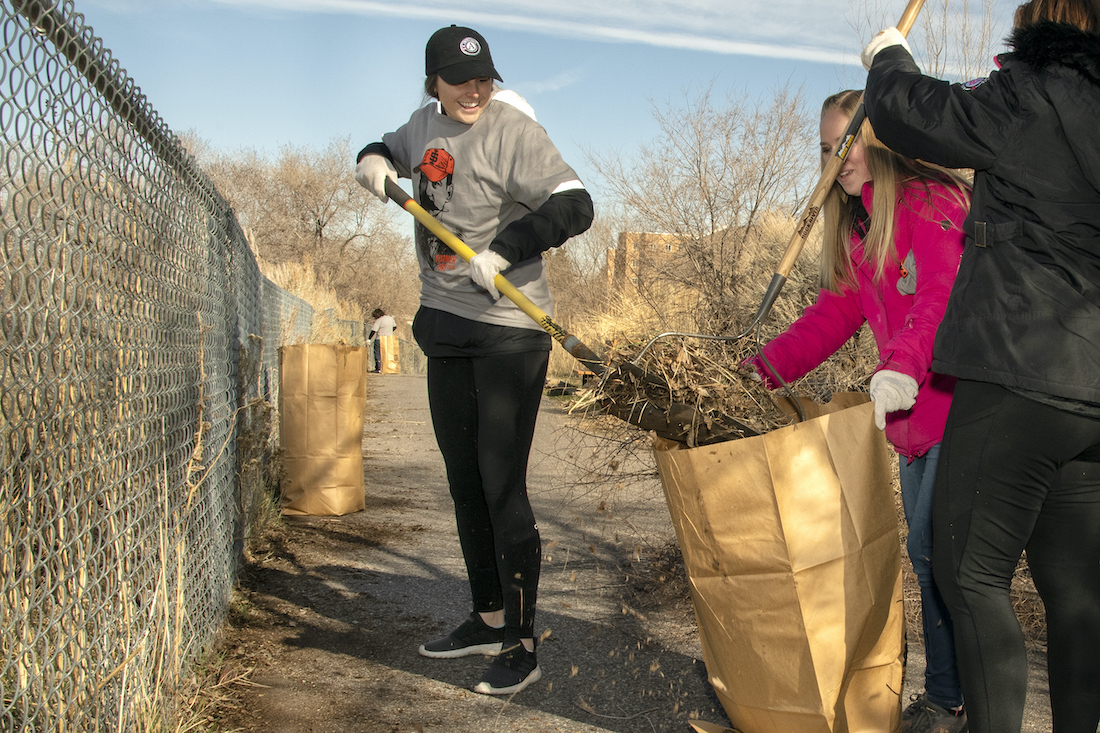 POCATELLO – Several dozen volunteers, with help and direction from Idaho State University Facilities Services, cleared and maintained Red Hill trails to celebrate ISU's second annual Turner Day on Friday, March 13.
"We focus on a campus project each year because we really want students, employees, alumni and community members to come out and feel the importance of giving back to the university and the importance of volunteering," said Ginny Lawrimore, ISU director of brand management and trademark licensing, and ISU Staff Council member. "We are hoping to expand this every year and would like to expand it to other campuses."
Turner Day honors Theodore Turner, the 'father of ISU,' who devoted 50 years of his life ensuring a comprehensive four-year college education would be available in Pocatello.
"We are marrying tradition and the history of the University with giving back through service," Lawrimore said.
Volunteers used shovels, rakes, clippers and other tools to maintain the trail. They were also given a T-shirt sporting an image of Turner and a voucher for a free lunch at the aptly named Turner Dining Commons.
"Today we are helping out with Turner Day," said Chris Wagner, ISU landscape manager, Facilities Services Grounds and Landscaping. "We are doing a cleaning project around the Red Hill trail system, just widening the trail system of overgrown shrubs, bushes and grass, and picking up any trash we might find and doing a spring cleaning."
Volunteers gave different reasons for showing up.
"It was an interesting activity to do and I feel like it is good to get out into the community and make sure you give back, especially with ISU being such a good community partner," said Esther Robles, an ISU junior from Caldwell majoring in social work.
Zach Reed from Payette, a business administration major, gave his reasons for showing up.
"It fit into my schedule, I actually had a time for it," Reed said, "It is always nice to give back to the community, and free lunch."
The event was sponsored by Associated Students of ISU, ISU Student Opportunity Development, Idaho Health Care for Families and Children AmeriCorps, ISU Facilities,
ISU Grounds and Idaho State University Traditions Committee.
For more information on Turner Day, visit isu.edu/turnerday.
---
Categories: