Three Idaho State University student teams place second at the Idaho Entrepreneur Challenge
April 6, 2020
Kelsey West, Business Marketing Director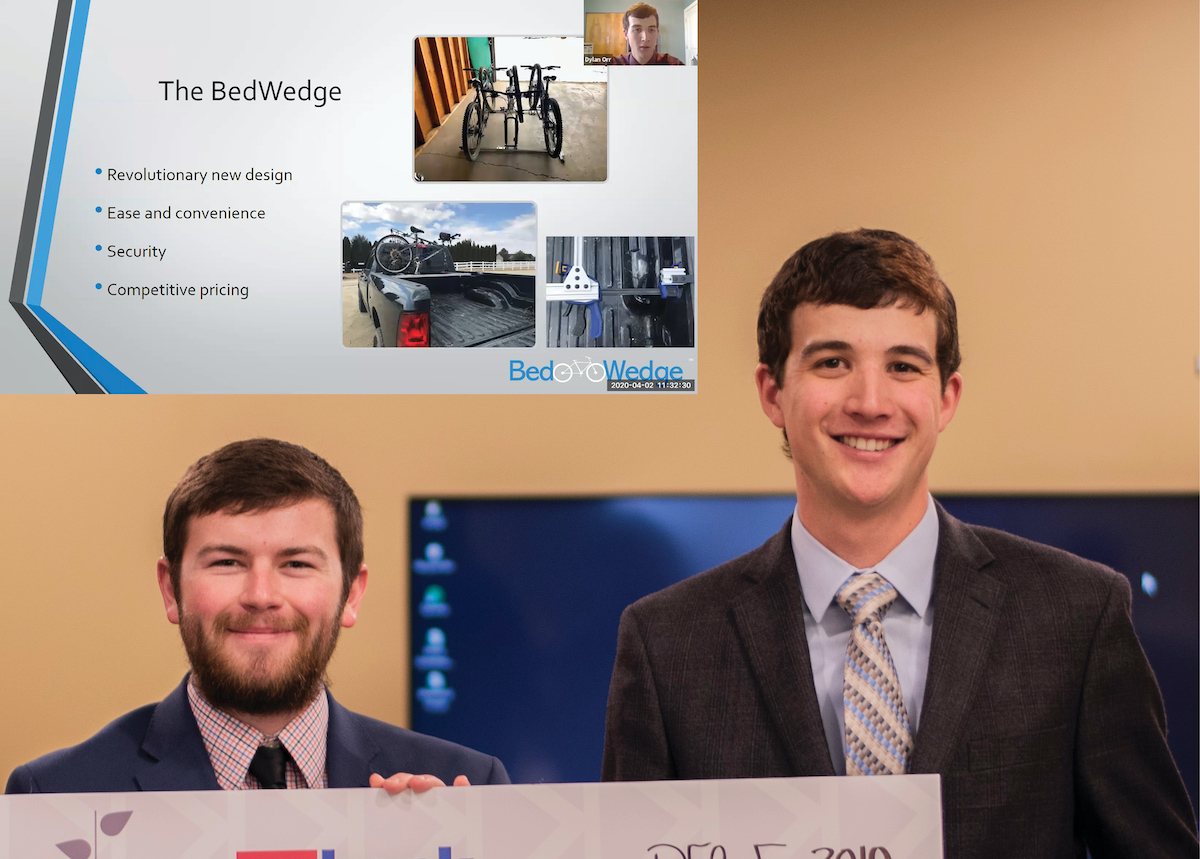 Despite the annual competition being moved from Boise to an all-virtual setting, three of the six Idaho State University teams participating in the Idaho Entrepreneur Challenge (IEC) on April 2 placed in the competition
Despite the annual competition being moved from Boise to an all-virtual setting, three of the six Idaho State University teams participating in the Idaho Entrepreneur Challenge (IEC) on April 2 placed in the competition against 17 other teams with a total of 23 teams competing. Each of the three groups placed second in the categories of Product (Bed Wedge), Local Service (Broke Bazaar) and Technology (Mind Stream).
"The six teams sent by Idaho State this year were the best set of entrants we have ever had," said team advisor and Center for Entrepreneurship and Economic Development (CEED) Director, Dr. Jeff Street. "All of the teams worked extremely hard for numerous months to make it to the finals. CEED's coaching team of Ann Swanson, Small Business Development (SBDC) director; Claudia Allen, SBDC consultant; Dan Cravens, Bengal Solutions director and myself have never been prouder of our Idaho State teams."
Each of the teams competed for a chance to win a portion of the $100,000 in cash prizes and were judged from their home offices via Zoom. Judges for the competition included a number of prominent business representatives such as a Harvard Business School professor, the J.A. & Kathryn Albertson Foundation, and much more. Students were chosen as finalists out of over 100 applicant teams from around the state.
Placing teams included:
BedWedge
BedWedge, created by business students Michael Magee (marketing) and Dylan Orr (management) is a bike rack designed to fit in the bed of a pick-up truck. The rack will hold from one to six bikes and adjusts to 'wedge' into different sizes of beds of numerous models of trucks. It is removable and can also sit free standing in a garage to hold bikes in storage.
Broke Bazaar
Broke Bazaar, designed by business and technology students Saugat Shrestha (finance, management), Joachim Fosu (finance, management), and Alankar Pokhrel (computer science), is an online marketplace like Craigslist with added features and services offered exclusively for students, staff, and alumni of a university. This exclusive marketplace helps college students trade their things effectively and efficiently because the transactions are more convenient, less time consuming, safe, and inexpensive by using on-campus areas as exchange points.
Mind Stream
Mind Stream, designed by Dylan Brown (computer science), Jonah Brown (junior at Highland High School), provides technology developers and gamers with the gateway to the brain. It is an easy, low-setup headset and software for controlling technology with the mind. This technology is a pathway to the future of human-computer interaction.
One of the teams to compete in the IEC, H2 Therapeutics, will also compete at the Northwest Entrepreneur Competition (NEC) this month, which was scheduled to be in Spokane, Washington- but will also be held virtually. This competition includes $44,000 in cash prizes.
This is the fourth year that Idaho State students have entered into the IEC. Students have placed in the competition every year.
---
Categories: