Pocatello streets sport new ISU paws courtesy of Idaho Transportation Department
July 23, 2020

ISU spirit mark still to come at intersection of Fifth Avenue, Terry Street
POCATELLO – There are new Idaho State University paw prints on streets in Pocatello, courtesy of the Idaho Transportation Department, and there are plans to put a 20-by-30-feet ISU spirit mark down at the intersection of Fifth Avenue and Terry Street later this summer.
The ITD had road maintenance planned this summer – including chip seal, micro-seal and other rehabilitation projects – on a number of streets in Pocatello, including Fourth and Fifth Avenues. Last fall, the ITD contacted ISU because the existing paws on some streets were going to be covered by the projects.
"They have to do maintenance on the roads, otherwise the old paws would not have been covered, but they chose to replace them with their own budget," said Jason Adams, Director of Design and Construction for ISU Facilities Services. "We are very appreciative that they are supporting ISU and the community by doing that."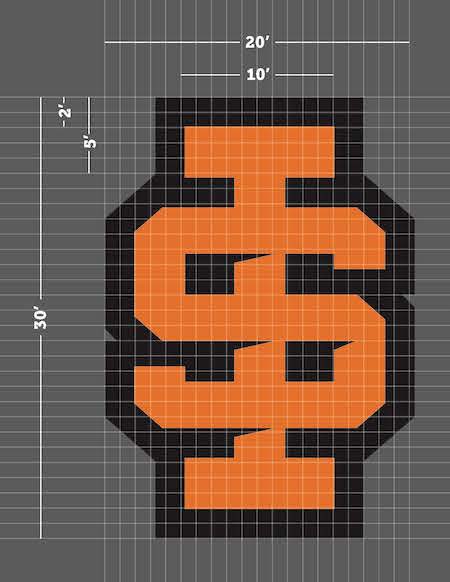 Last fall, discussions came up about putting a semi-permanent ISU spirit mark – the interlocking "I" and "S" that comprise one of the University's official marks. The ITD and ISU have since been working to make that happen. The spirit mark is scheduled to be installed Aug. 13-14 prior to the start of ISU's fall semester on Aug. 17.
"The Idaho Transportation department recognizes our colleges and universities within the state are of vital importance to our communities," said Eric Staats, engineering manager for ITD District 5. "So when we talked to ISU about those paws, Jason Adams had this thought of putting a logo at Fifth and Terry, so we thought it was an opportunity to partner with ISU."
The ITD is waiting for the new road surface to cure before applying the spirit mark.
"We coordinated with ISU and ISU helped us as far as the specifications go," Staats said. "We had a good partnership in order to identify a good replacement product for the paws and to make sure the logo will be what the university wants."
---
Categories: