Pocatello Pet Lodge owner Stephanie Adams honored as ISU Business Leader of the Year
February 10, 2020
POCATELLO – Stephanie Adams, owner of the Pocatello Pet Lodge and Pocatello Pet Lodge, Too, is the Idaho State University Alpha Kappa Psi Delta Upsilon Chapter 61st Idaho Business Leader of the Year.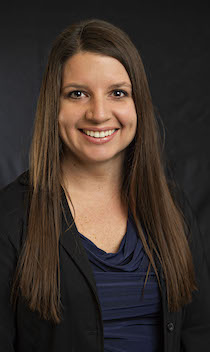 Alpha Kappa Psi Delta Upsilon Chapter, the professional business fraternity at ISU, will recognize Adams at a dinner in Pocatello on April 9.
The award annually recognizes an Idaho business leader who has demonstrated outstanding business and professional ethics while contributing significant support to worthwhile community, civic and education activities. Awarded by ISU College of Business students since 1959, previous honorees have included a congressman, former governors, entrepreneurs and leaders of some of Idaho's largest companies. The recognition program is the longest-standing one of its kind in Idaho.
Adams is an Idaho State University alumna with a degree in biology. She founded Pocatello Pet Lodge, a boarding and grooming facility and doggie day care center for pets in 2008. Pocatello Pet Lodge grew and opened a second location in 2017 and to a staff of 35 between the two locations.
Animals have always been a big part of her life. Upon graduation from ISU, Adams used her biology degree to become a zookeeper for Zoo Idaho, Fort Worth Zoo in Texas, and Naples Zoo in Florida.
Adams' leadership skills started when she was at ISU as an ISU Ambassador and grew as she worked as a zookeeper. She focused on growing as a person and leader while finding her voice for advocacy and persuasion. She wanted to find a career in the personal pet industry she could excel at, but also find personal satisfaction. This is when Pocatello Pet Lodge was born.
Adams said that she is not a boss, but a leader. She jumps in, shoulder-to-shoulder, with the staff and works tirelessly to get the job done right. Hundreds of people from the region entrust their pets to her oversight, attention to detail and high reliability. She cares deeply for the people and pets she serves on a daily basis and creates a feeling of family with those who bring their pets to Pocatello Pet Lodge and Pocatello Pet Lodge, Too.
Adams' commitment does not stop at just serving pets and their families. Her commitment to the community and ISU is impressive as well. She is the President of the Zonta Club of Pocatello and the public relation/marketing chair for Zonta's District 8. Zonta is a leading global organization that seeks to empower women worldwide through service and advocacy.
She is currently a member of the Leadership Pocatello-Chubbuck and a board member of the ISU Alumni Association. She has also been involved in the Portneuf Rotary Club, the Marketing Steering Committee for the Neighborhoods of Historic Old Town Pocatello and as a Chair of the Pocatello Animal Shelter Advisory Board. She is an excellent example of Alpha Kappa Psi's values of service and brotherhood.
Individual tickets to the April 9 banquet, as well as event sponsorships, are available. For more information or to purchase tickets, visit idahostate.akpsi.org/ibloybanquet.