Physician Assistant Studies Department Chair Paula Phelps to be honored at Idaho Business Review 2020 Women of the Year Awards
March 2, 2020
Chris Cole, Kasiska Marketing Assistant
POCATELLO - The Physician Assistant Studies program began in a single-wide trailer 25 years ago at Idaho State University, with two rooms and 20 students. Now the program is spread across three campuses and is breaking boundaries with the latest in medical offerings.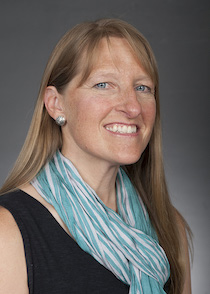 Paula Phelps, the first faculty member hired for the physician assistant and department chair for the last 10 years, is excited about how the program has grown and continued to change over the years.
It is easy to see why Phelps was recently nominated for the Idaho Business Review's Women of the Year Award for 2020. Fifty women from across Idaho and across industries will be honored at the annual event celebrating leadership and innovation on March 11 in Boise.
Phelps says the program has cutting-edge offerings you won't see at other universities, which is why 50 percent of the students are coming from out of state, and the program sees anywhere between 750-900 applications for 72 seats across all three campuses.
Phelps says they are now adding to their offerings by getting their faculty certified in lifestyle medicine.
"It really changes the face of medicine," Phelps said.
Lifestyle medicine is similar to functional or integrative medicine, with certification offered by the American College of Lifestyle Medicine. The certification focuses on a holistic approach when looking at an individual's medical issues.
"If you look at the worst diseases we have, the chronic diseases – diabetes, heart disease, and many cancers – 80 percent of all the illnesses we're looking at in the U.S. are caused by lifestyle," Phelps said.
She said the evidence-based field addresses these issues through six pillars: nutrition, physical activity, sleep, stress management, healthy relationships, and avoiding risky substances. Phelps used the example of how 40 percent of Idahoans are low in vitamin D, which is known to cause fatigue and depression. This can affect sleep which, in turn, affects cortisol levels, which affects your waistline, which can lead to diabetes or affect your emotional regulation.
"So it looks at the science, and what is the optimal way to treat sleep disorders and – whenever we can – do it in a natural way," Phelps said.
Phelps also said that physician assistants practicing lifestyle medicine would be able to manage problems like insomnia by advising patients on how the timing of eating, drinking, and exercise affects sleep, and adjustments of blue light of the naturally occurring hormone melatonin can improve sleep quality. In general, the focus of the therapies will be natural solutions, like adjusting diet or examining if you are managing stress successfully.
"These are tools clinicians need to know about, so we are incorporating it into our curriculum. I was the first to be certified in our department, and three more people will be certified this year," Phelps said.
She also explained that lifestyle medicine takes a look at the larger world around their patients, including the effects their food has not just on them, but their environment.
"It's estimated that, if Americans quit eating beef, within five years we'd meet the Paris Accords Climate Agreement regulations for greenhouse gas emissions," Phelps said.
Phelps also said she is excited about where this could go. She explained that Pocatello is poised to be able to offer Southeast Idaho's first-ever lifestyle medicine clinic.
Phelps said this would be much different than other clinics, as it would likely be cash-pay. The reason is that, unless a patient is diagnosed with something like high cholesterol or diabetes, insurance companies will not pay for the services.
"The best we can do right now with our current insurance situation is that I incorporate lifestyle medicine into annual wellness visits," Phelps said. "But getting someone to say, 'yes, I'd love to come back and learn to meditate,' is something we can't do right now."
She also explained this will help immensely in clinics, where providers and students may be experiencing burnout from only having the option to see patients for ten minutes. Furthermore, it will change the tone of those visits.
"These are happy visits," said Phelps. "These are, 'hey, let's talk about how I can make you feel better overall and how you can do it in a healthy way.' By changing diet, sleep, and exercise levels and limiting substances, we're going to take care of 80 percent of the problems that will kill you."
Phelps said she is proud that all PA program faculty work in clinics and maintain their licensure, which helps them stay up to date with the latest in medicine. She is proud of all the advances the PA program has made since it started 25 years ago, and looks forward to celebrating 25 years of growth with the program.
---
Categories: