ISU's June Career Path Intern of the Month is Christie Collier
June 1, 2020

POCATELLO – Idaho State University's June Career Path Intern of the Month is Christie Collier, a senior pursuing a bachelor's degree in organizational learning and performance.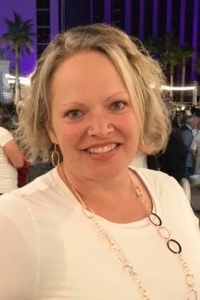 Collier currently holds a Career Path Internship in the Energy Systems Technology and Education Center (ESTEC), a part of the ISU College of Technology where she has been able to put her background in nuclear operations technology to work.
Recently, Collier has helped develop curriculum for the Nuclear Operations Technology Program as well as assisting in the adjustment to delivering course content to students using online delivery. She also helps tutor students to help them gain a better understanding of the program's course content.
"The work she has done has helped students access what they need online while learning remotely," said Mackenzie Gorham, the Nuclear Operations Technology Program coordinator and Collier's supervisor. "She has also been a resource for other instructors inside ESTEC."
Collier developed a pipe variation model for ISU students that was so successful that she entered the prototype into the 2019 Idaho Entrepreneurial Challenge. Her prototype was selected as one of the top 23 finalists.
"It was great working with the Center for Entrepreneurship and Economic Development and the College of Business Collier said. "I also consider being able to mentor students as they transition into these technical courses, especially women who are entering a non-traditional career, a highlight of my internship.
Collier, a Pocatello native, hopes to work for Idaho National Laboratory after she graduates in December. In her spare time, Collier enjoys traveling, spending time outdoors with her family and soaking at Lava Hot Springs.
---
Categories: