ISU to host Anti-Human Trafficking Symposium Jan. 28
January 10, 2020

POCATELLO – A "Anti-Human Trafficking Symposium" will be held from 1 to 5 p.m. Jan. 28 in the Idaho State University Pond Student Union Wood and Little Wood River Rooms.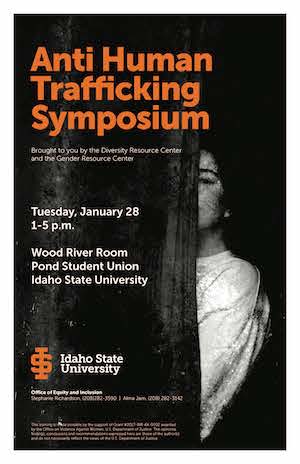 This event, hosted by the Gender Resource Center and Diversity Resource Center, is free and open to everyone including service providers and community members. Parking will be free in ISU Parking Lot No. 1, next to the Pond Student Union.
Human trafficking spans across the United States and occurs in every state, including Idaho. There is a network of people that target individuals and can reach victims through a variety of means. The industry is growing in profitability, making human trafficking appealing to many and increasing the number of young people falling victim to traffickers. The symposium will present information by local experts on human trafficking in Idaho.
The Anti-Human Trafficking Symposium will begin with a viewing of the PBS Frontline documentary, "Sex Trafficking in America." Thelma Anih will be presenting on "The Aftermath: Coping With Mental Health After Escape." Deirdre Caputo-Levine will present, "Reducing Individual and Community Risk for Sex Trafficking." There will be activities during the training to give insight into human trafficking. The symposium will end with a presentation outlining action steps for citizens to support an end to human trafficking in our area.
If you would like more information about this symposium, contact Stephanie Richardson at 208-282-3590 or richstep@isu.edu; or Alma Jam at 208-282-3142 or jamaima@isu.edu.
---
Categories: