ISU outdoor, veteran centers team up to provide trip to vets
March 19, 2020
By Andrew Taylor, Assistant Marketing Director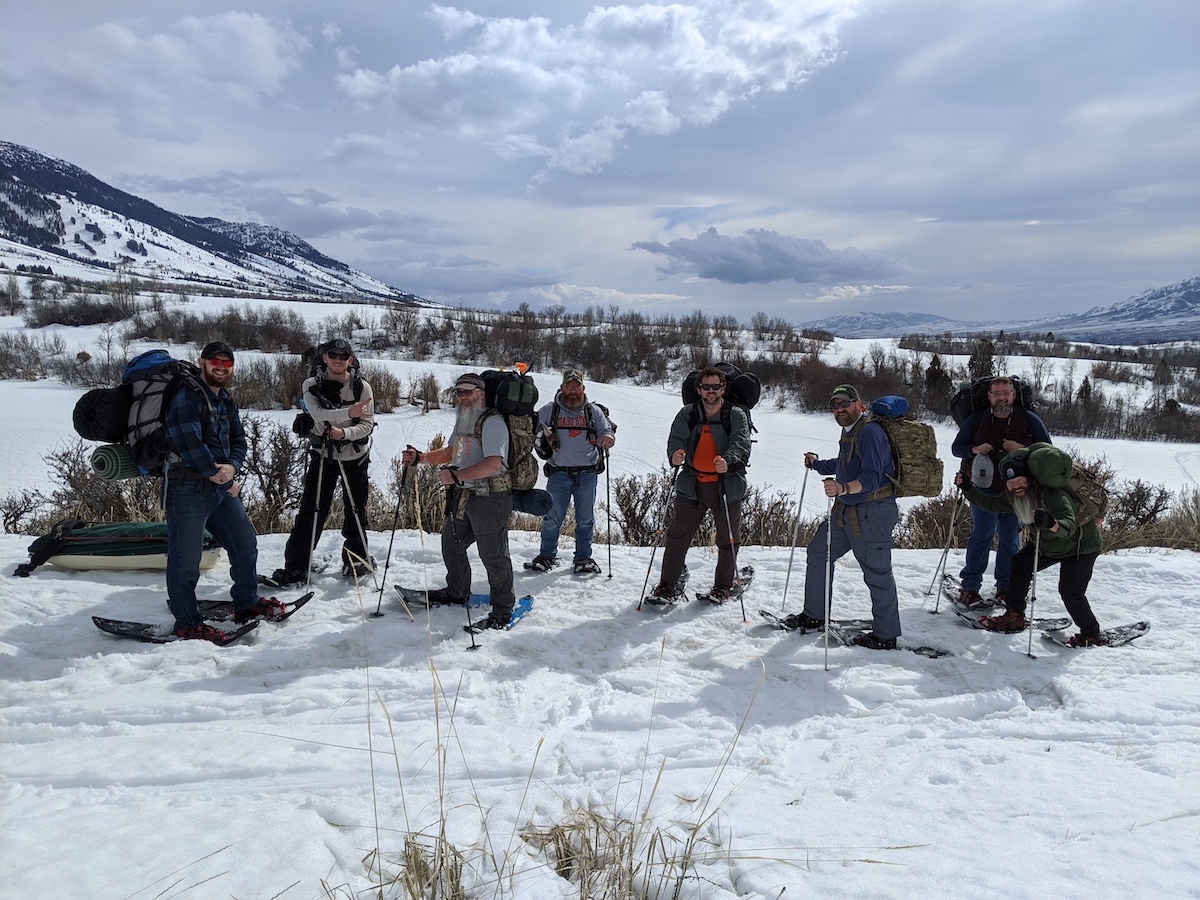 POCATELLO – Instead of doing professional development activities in an office or classroom, a group of Idaho State University veterans recently had the opportunity to bond in the great outdoors. They spent a trip in early March snowshoeing, stacking wood and spending a night at a yurt on a collaborative trip created to bridge the gap between veterans and the university.
The Idaho State University Outdoor Adventure Center (OAC) and the Veteran Student Services Center teamed up to provide the snowshoeing overnight yurt trip for ISU veterans, that included students, administrators and an alum.
It was the first OAC trip sponsored by the Veteran Student Services Center, but it likely won't be the last.
The trip was organized by Maren Hunter, a master of physical education-athletic administration student in the ISU College of Education, as part of her master's project.
"I wanted to start making more opportunities like this for veterans through the OAC," Hunter said. "We want to make some trips that provide opportunities for veterans to recreate in a safe and supportive environment. This was the first one and we will continue offering the trips, as veterans are a tight-knit group that benefit from being with each other and being supported in the outdoors."
For the past couple of years ISU student veterans have participated in an OAC/Cooperative Wilderness Handicapped Outdoor Group (CW HOG) rafting trip down the Green River, but this was the first OAC trip designed specifically for veterans.
"We went up to the yurt and took our time getting up there on a beautiful day and did a service project," Hunter said.
The group dug snow out around the yurt and cleared its wood pile of snow. The group had dinner and then Todd Johnson, director of the Veteran Student Services Center, gave a talk about self care that opened up into supportive discussion.
In the morning, Kerry Larsen, ISU military education benefits chief, gave a presentation on "leave-no-trace camping."
"It was such an amazing experience," Johnson said. "The activity gave our student veterans a tremendous opportunity to bond with each other. It was also a great opportunity to do professional development and to work as a team."
Most of the participants were veteran students who work in the Veteran Student Center, but also included an ISU alum Kale Bergeson and Ches Barnes, Bennion Student Union director.
"We wanted to explore day trips, and wanted to see what veterans needed to connect with the university and connect to the outdoors, to explore pieces that were missing," Johnson said.
He said these types of activities help veterans connect with ISU and the community.
"Military people tend to always be together and they don't generally connect with the university as well," Johnson said. "We want to have a culture where we can embrace the vet community and be part of the larger community, and be part of the Bengal community. I think we are going to include these types of opportunities because it gives us so much information for what vets need to connect with the university.
---
Categories: