ISU OTA Instructor Brittany Peterson is a world-class ultra runner
December 23, 2019
By Andrew Taylor, Assistant Marketing Director
POCATELLO – Idaho State University instructor Brittany Peterson finished second in the 2019 Western States 100-Mile Endurance Run, which can be considered the Super Bowl of ultra-long-distance trail running in the United States.
She also recorded the fourth-fastest women's time in the race's 45-year history.
Peterson, 5 feet, 1 inches tall and 100 pounds, is an instructor in the ISU College of Technology Occupational Therapy Program and is a sponsored Nike Trail runner. Last June, she finished the Western States in about 17-1/2 hours, battling the women's race champion nearly to the end, still competing with the eventual winner at the 95-mile mark. The race is held in California's Sierra Nevada mountains, starting in Squaw Valley and ending in Auburn. The contestants toil through 18,000 feet in elevation gain and descend about 23,000 during the race.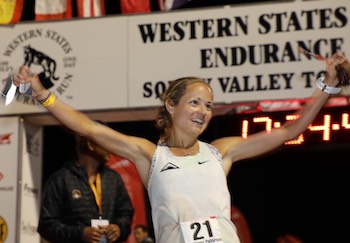 "I was kind of an underdog, because I don't have a ton of national recognition at the 100-mile distance, but I was off contract (teaching) in May – that's the beauty of working in academia – and was training down in California," Peterson said. "I was confident in my training, I knew the course and I knew how to execute. I was really shooting for the podium, but wasn't terribly open about that at the time because so few people ever get to be on the podium."
Among her other running accomplishments, Peterson also has the fastest known time for women, 36 hours and 44 minutes, for climbing all nine of Idaho's 12,000-feet peaks. Her boyfriend, ISU geosciences alum Cody Lind, holds the men's record for the "Idaho 12ers."
Peterson said that working at ISU is a boon to her running, and that her running is an asset to her teaching. She's able to complete her 50 to 100 miles of weekly training runs around her teaching schedule.
"I feel like I blend both worlds," Peterson said. "Being good in your profession and being good in a specialized sport requires the same drive and enthusiasm. My boss tells me that running is asset for me as an instructor versus a hindrance because it shows students well-roundedness, responsibility and dedication."
A native of Duluth, Minnesota, Peterson practiced as an occupational therapist in Boise for seven years before moving to Pocatello to work at ISU two years ago.
"When I was practicing in the community it felt like, with the traveling and competing, I was not providing the continuity of care I wanted to," she said. "Academics is super flexible. For example this year I started the semester teaching in Pocatello and a week later I was in France running the CCC (an ultra-run event in the Alps) and then doing ZOOM (online) lectures back to my students."
In Pocatello, Peterson has found a tight outdoor recreation community and a trail system made to order for an ultra-runner.
"I loved living in Boise, but the trails in Pocatello are way better. Sometimes there are more moose on the trails than people," said Peterson, who likes to train with her dogs, two huskies and a pitbull. "There are true single-track trails that start right on the edge of town that are actually technical at higher elevations."
Her love of the trails in the Pocatello area are another in for connecting with current and potential ISU students.
"When I lead tours with potential students I can share that I am more of a small-town girl who loves outdoor recreation and Pocatello can be a beautiful blend for students," she said. "The university makes Pocatello more of a thriving place and I'm hoping to see more changes in the community centered around outdoor recreation."
She mentioned that university and community members interesting in exploring trail running can meet at 6 p.m. Wednesday nights at the Pocatello Running Company, located in Old Town. The group caters to brand new to seasoned trail runners who want to explore area trails and meet people.
Bottom photo information: Peterson on the podium at Western States.
Idaho State University, a Carnegie-classified doctoral high research activity university and teaching institution founded in 1901, attracts students from around the world to its Idaho campuses. At the main campus in Pocatello, and at locations in Meridian, Idaho Falls and Twin Falls, ISU has nine Colleges, a Graduate School and a Division of Health Sciences that together offer more than 250 certificate and degree programs. More than 12,000 students attend ISU. Idaho State University is the state's designated lead institution in health professions.
---
Categories: