ISU Master of Taxation student Williams receives FSA Student Award
May 7, 2020
Charlotte McBride, Business Marketing Intern
One student is recognized for his outstanding accomplishments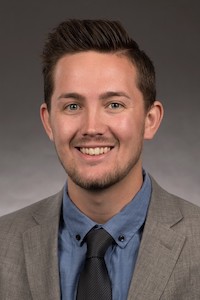 POCATELLO – Kordell Williams, who will graduate with a Master of Taxation degree from the Idaho State University College of Business this spring, has been awarded the Federation of Schools of Accountancy (FSA) Student Award for 2020 by the college's accounting faculty.
The FSA Student Award is awarded to accomplished students enrolled in their fifth year of a 150- hour accounting program that leads to a post-bachelor's degree. In 2019, 99 students from 121 participating schools were selected for this award.
"I am honored to receive this and am extremely grateful," Williams said. "I want to thank the faculty for helping to foster such a good learning environment that allowed me and so many other students to not just excel in the classroom but also make really good friends."
The award was announced by Ray Rodriguez, the accounting department chair.
Williams will graduate with magna cum laude honors. Upon graduation, he plans to move back to Twin Falls to work for the accounting firm Eide Bailly as an associate where he hopes to one day become a partner. Williams graduated in December of 2018 with a Bachelor of Business Administration degree in accounting and finance before pursuing his masters.
"The first accounting course I took was during my junior year in high school and the material just made sense to me," Williams said. "Not only did I find the material interesting, but I learned that a career in accounting would allow me to connect with and be involved in my local community."
Williams has also been involved in a number of extracurricular activities including being treasurer and president of the Eta Lambda chapter of Beta Alpha Psi as well as president of the Finance Club.
The FSA is an international organization that was formed in 1978 to "...provide the impetus for the development of professional schools of accountancy." The organization consists of 121 accredited accounting graduate schools from the United States and abroad as well as several national accounting firms, several state Certified Public Accountant (CPA) societies, and the American Institute of CPAs. They offer four awards every year with the student awards being the most celebrated.
The recipients of this award will be listed in a newsletter sent out by the FSA that will reach more than 3,000 faculty members, state society members and participating accounting member firms nationwide. They will also be posted to the FSA's website.
---
Categories: