ISU July Career Path Intern of the Month is ISU Meridian's Radhika Narsinghani
July 1, 2020

POCATELLO – Idaho State University's July Career Path Intern of the Month is Radhika Narsinghani, a fourth-year pharmacy student at Idaho State University.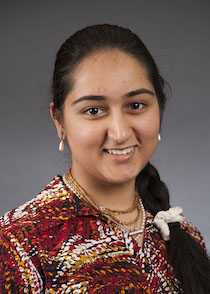 Narsinghani currently holds a Career Path Internship at the College of Pharmacy's Meridian campus. Her internship has included work with a statewide survey of pharmacy practice in Idaho, where she assisted in analyzing the survey results to improve pharmacy practice within the state.
"She is incredibly thoughtful in her work and asks insightful questions," said Elaine Nguyen, College of Pharmacy assistant professor and Narsinghani's supervisor. "She problem solves, contributes to our team as a collaborative member and is always professional."
During her work with the statewide survey, Narsinghani made targeted phone calls to pharmacies in areas of the state with low participation. From these efforts, Narsinghani significantly increased the survey's response rates.
"From this experience, I learned that hard-work and determination to accomplish a task is important for the success of any project and that I shouldn't be hesitant or scared of what the results will be," Narsinghani said. "I am very grateful to get this research experience while I am in pharmacy school, because good communication skills are really essential for a pharmacist to have."
Narsinghani, a Boise native, hopes to do a residency and dedicate her knowledge towards educating patients with diabetes and hypertension. She intends to specialize in ambulatory and geriatric care upon graduating in May 2021. In her spare time, Narsinghani enjoys dancing, drama, and singing.
---
Categories: