ISU College of Health Professions Dean McKnight retires
January 13, 2020
Chris Cole, Kasiska Marketing Assistant
Highlights from 26-Year Career Filled with Changes and Opportunities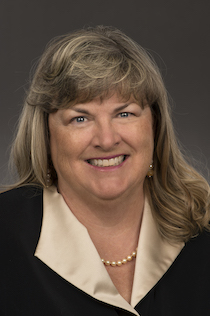 POCATELLO ­– The retiring dean for the College of Health Professions says she is grateful for all that she has seen and accomplished throughout her 26-year career at Idaho State University. As a faculty member and program director of dietetics for 24 of those years, Laura McKnight has seen many changes in the education of nutrition and dietetics.
In her more recent stint as dean, she has had the opportunity to work with several other health science programs housed in the College of Health Professions to promote curriculum change, program growth and faculty development.
Having come up the ranks through the dietetics program, now titled the Department of Nutrition and Dietetics, McKnight has seen a lot of changes to the program offerings at ISU in the health professions.
"ISU has a reputation for providing excellent education programs in the health professions," McKnight said. "Our competitive and rigorous programs yield outstanding graduates to provide health services to the residents of the state of Idaho and beyond."
A graduate of ISU herself, McKnight was asked, "Why dietetics?" She confessed that she didn't originally intend to go into dietetics. Her original plan was to be a radiographic technologist, but she ran into an issue.
"I love medicine, but I'm squeamish," McKnight said. "So when I was doing my rotations for radiographic science and would have to go to surgery or something, the room would spin and I just didn't do well. So I thought I'd go back to dietetics because I loved food and nutrition, and I had a lot of the prerequisites."
It was a surprise to find out in her dietetic internship at the Veterans Administration in Salt Lake City and later in her first job as a clinical dietitian that she'd still be around blood, especially working with patients on dialysis. Even up to her last day of teaching, she required forewarning if her students were going to show something graphic in a presentation.
Throughout her career in dietetics, she has seen more diversity in the program with more men and minorities entering the field. Dietetics has always been attractive to nontraditional students as well as those exposed to nutrition therapy through diseases such as diabetes and Celiac Disease. McKnight says the field has migrated from a home economics-type program to a greater focus on the health care and science side, which has increased the rigor of the program.
Of course, there is still the basic need of teaching students how to cook. McKnight has told her students, "In teaching others, we need to remember that people eat food – not nutrients."
She taught introductory food science, meal management, and foodservice management courses for years. McKnight and now-faculty member and former student, Char Byington, remarked that many come into the program not having many – if any – cooking skills.
McKnight shared a fond memory of teaching a cultural meal segment in the foods lab, then housing 10 kitchens, filled with students preparing foods from different cultures. She smelled something burning and ran to discover students trying to boil oil in order to fry plantains.
"I carefully picked up the pan of smoking oil to put it in the sink to contain the smoke and prevent burns, but accidentally bumped the faucet in the process, causing the water to drip into the hot oil and burst into flames," she said.
Though she grabbed the fire extinguisher, the resulting plume of smoke caused smoke alarms to blare and the building to be evacuated until the Pocatello Fire Department gave everyone the all-clear. The students learned two important lessons that day: oil shouldn't be heated to a boiling point, and hot oil and water don't mix.
"From then on, we nixed deep-fried foods," McKnight said, laughing at the memory.
The original foods lab designed in the early 1970s has recently been remodeled into a state-of-the-art food science lab. Alumni, including McKnight herself, will always have memories of the avocado green carpet and orange, yellow and green countertops. The lab is used for the teaching of introductory foods that teaches basic food science skills. It is also used for an experimental foods course that teaches ingredient modification to change the nutrition profile of foods to make them low fat, low sal, or gluten free, etc. It is also a teaching kitchen for the campus and the community.
Byington, dietetic internship director for ISU, said there have also been changes in nutrition counseling. Dietitians approach nutrition counseling from a motivational interviewing and behavior change theory approach. In hospitals, dietitians are seen as a health care provider, often having diet order-writing privileges. Barb Gordon, faculty member and chair of the Department of Nutrition and Dietetics, remarked on the practice of combining visits with a physician to provide counseling to a patient. She also explained that dietitians now conduct nutrition-focused physical exams on patients to help identify signs of malnutrition.
ISU has offered the Bachelor of Science Degree in dietetics since the early 1970s and a dietetic internship since the early 1990s. Meeting the new professional accreditation standard of a master's degree for entry-level practice by 2024, a new Master of Science Degree in nutrition is now offered both in conjunction with the dietetic Internship and stand alone for those registered dietitians and nutritionists wanting to come back and earn a graduate degree.
McKnight, with the food service management side of dietetics as her area of expertise, said one of the most important things she tried to convey to her students was that management principles like budgeting, human resources, communications, needs assessment, program planning and marketing were "tools for a tool box" that they would continue to draw from throughout their careers.
"Whether you're going into clinical, community or food service, if you're in it long enough, you'll find yourself using these tools," McKnight said. "Students would come back to me years later and say, 'you were right.' So, of course I loved that."
University administrators clearly felt that management was a forte for McKnight as she worked her way from adjunct instructor to dean in her 26-year career at Idaho State. McKnight said she routinely drew from the management toolbox herself during her time as dean of the College of Health Professions.
Byington congratulated McKnight on her achievements, and said McKnight and her sense of humor will be missed.
"I know Laura as an instructor, having been a student, too," Byington said. "Her humor just came out all the time when we needed it. You have to be able to laugh at yourself and at the circumstances, and Laura was great for that. She's also a really good to work with on a team."
McKnight said she would like to be known for her advocacy of students and faculty. Her favorite part of the job has been running into former students and learning what they're doing, how passionate they are about their profession and what they've been able to accomplish.
"It's such a pleasure to see them from their first day to when they graduate later, and see their self-confidence and their knowledge and what they're able to do," she said.
McKnight is excited to celebrate her retirement on Wednesday, Jan. 15, from 4-7 p.m. in the newly-updated Albion Hall Foods Lab. She has a lot of trips planned with her husband, intending to enjoy retirement even more than she enjoyed her career.
---
Categories: