ISU College of Business graduate students earn runner-up 'written documents' trophy in international competition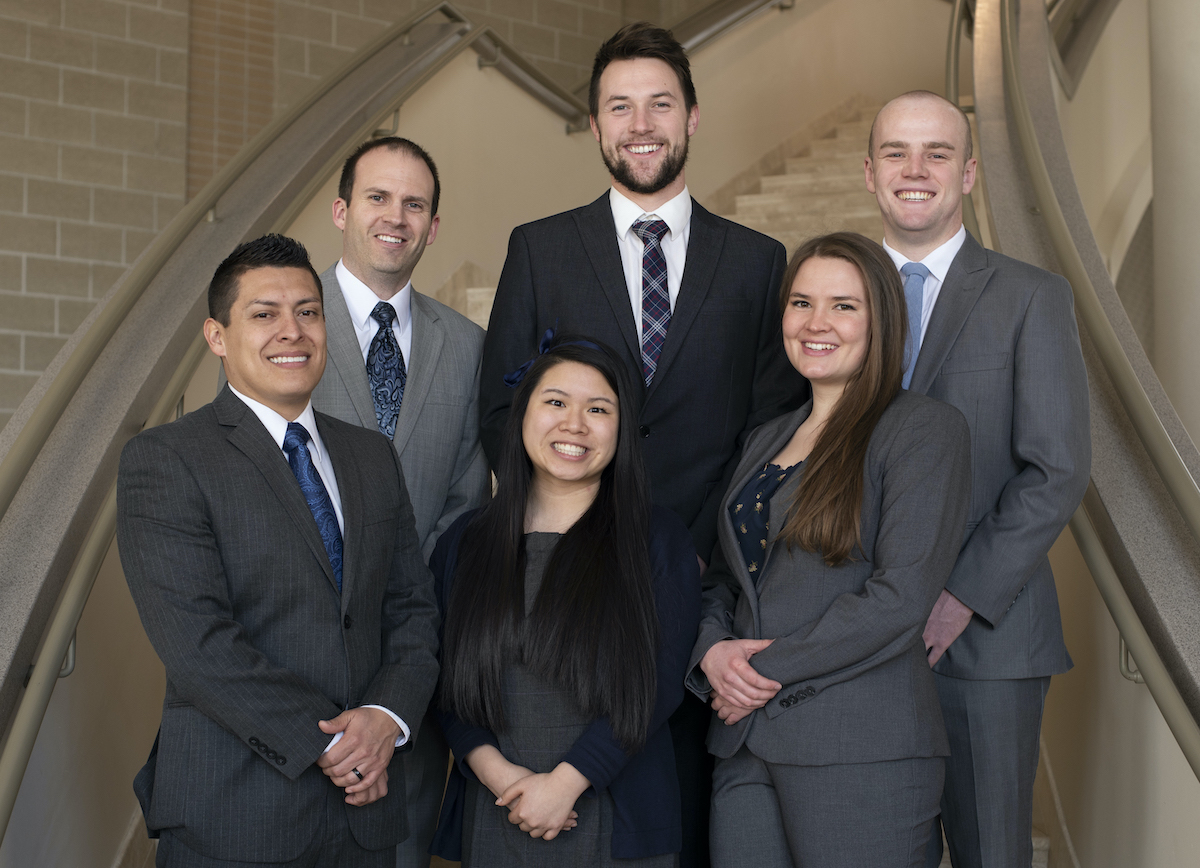 POCATELLO – A team of six Idaho State University College of Business graduate students have brought home the runner-up trophy for "Best Written Documents" from the International Collegiate Business Strategy Competition (ICBS), which was held in a virtual setting this year.
Competing against students from schools two to four times the size ISU, the Bengal students began the competition through a simulated system back in February.
"Teams of students from schools across the continent make three years, which is 12 quarters, of business decisions for a product idea they develop through a computerized business simulation," said Alex Bolinger, co-advisor for the team and management professor.
Bolinger, who works with accounting Professor Dawn Konicek to advise students through the process, explained that the final two years, or eight quarters, of decisions made for their business would have normally taken place in Anaheim, California, in an intense 48-hour process followed by a presentation to judges from major companies in the country.
"This year, the final phases of the competition took place entirely through Zoom including the presentation to a group of judges drawn from professionals from the metropolitan areas in and around Los Angeles, San Diego and Silicon Valley," Bolinger said.
In January, the team began working together in executive-level roles to develop a product idea and business plan to use throughout the simulation. Students and their roles on the team, were Chief Executive Officer Erin Cranor, Chief Financial Officer Sabrina Clark, Chief Analytics Officer Stephen Dudley, Chief Operations Officer Hayden Thurston, Vice President of Marketing and Human Resources Tony Torres and Controller Adam Stratton. The team came up with the idea for a low-cost, secure and simple-to-use handheld device that would allow affordable access to telemedicine.
"It amazes me just how relevant and important their product idea was," said Bolinger. "Given what has happened in the world since January."
Bolinger noted that he is exceptionally proud of this year's team and their ability to adapt to the situation.
"The team not only had to navigate the normal challenges of this competition, but they also had to be very flexible to adjust quickly when the pandemic struck and it was announced that the competition would go online," Bolinger said. "They were no longer able to meet together in-person, which tested the collective decision process that they had developed to that point."
On top of that, students were deeply disappointed to miss out on the opportunity to travel to California for the final days of the challenge.
"For them to work through all of that, maintain positive attitudes and stick together as a team – I consider that a great achievement and testament to their character." Bolinger said he also expects the current situation to make remote conferencing more prevalent among businesses in the future, which he pointed out will be an excellent skill for these students to have honed.
Dudley, the team's CAO, noted that the biggest challenge with working remotely was the inability to read body language when discussing difficult situations in the simulation.
"We were told that might a difficult piece to the competition, but I didn't completely believe it until we ran into some disagreements," Dudley said. "If our team dynamic had not been so strong, we might have run into some impasses with some of our decisions. Working remotely was certainly a challenge when it came to reading whether people actually meant that they agree. But we learned to be honest if we felt it was important enough to be voiced."
As with most teams year-to-year, the group said they have become very close through their experience. Sabrina Clark, CFO for the team, noted that the situation helped her to realize the value in the relationships they had formed.
"My biggest take away from the competition was the importance of company culture," Clark said. "I think it's easy to get along with people and work with them when everything is going well. It's easy when the company is thriving and your strategy is playing out exactly how you envisioned. But, when your results are not what you expected, when things look bleak for the company and your stock price drops, it's hard to be motivated to continue."
Clark also emphasized the value of a team dynamic and friendships within the group, especially during trivial and unexpected situations.
"I'm so grateful for the high caliber of people I've gotten to work with this semester," Clark said. "Because of everything we've been through together, we're more than colleagues, we're friends. That's worth more to me than any trophy or award."
The ICBSC is a unique real-world opportunity for ISU College of Business graduate students. ISU is the only university in the states of Idaho, Utah, Montana and Wyoming that participates in the competition, thanks to generous support from Idaho Central Credit Union.
"Dr. Konicek and I are especially grateful to ICCU for their incredible commitment and loyalty," Bolinger said. "Even though they were in the midst of an enormously busy time—their executive team took the time, from their homes, to participate in a Zoom meeting to give our team a chance to deliver a practice presentation. I cannot say enough to adequately thank ICCU for all of their support of this competition and our students."
---
Categories: