ISU College of Business Dean Shane Hunt creates new scholarship
August 3, 2020
Charlotte McBride, Business Marketing Intern
New endowment embodies a loving memory and dedication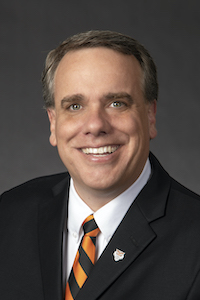 POCATELLO – Shane Hunt, the dean of Idaho State University College of Business, has established a new scholarship endowment in honor of his parents, Loren and Debbie Pilgrim, to help future students achieve academic success.
The new endowment is officially titled The Loren and Debbie Pilgrim Business Excellence Scholarship Endowment and will be available to any students pursuing a degree at the College of Business starting this year.
Hunt dedicated the scholarship to his parents because of all the sacrifices they made so he could attend school. Hunt was a first-generation college student and wanted his parents to be honored through this endowment. His father Loren, who passed away in 2015, was a member of the United States Postal Service for more than 30 years and his mother Debbie was an operations director for a staffing service for over 25 years. His mother has since relocated to Pocatello and is now an avid Bengal's fan.
"Going to college positively changed every aspect of my life, and that would not have been possible without the love, support and sacrifice of my incredible parents," Hunt said. "I am thrilled to honor the legacy of my parents by permanently endowing this scholarship that will help provide education opportunities for our ISU College of Business students for generations to come."
---
Categories: