ISU automotive technology instructor Gunter gets creative teaching hands-on class virtually
April 9, 2020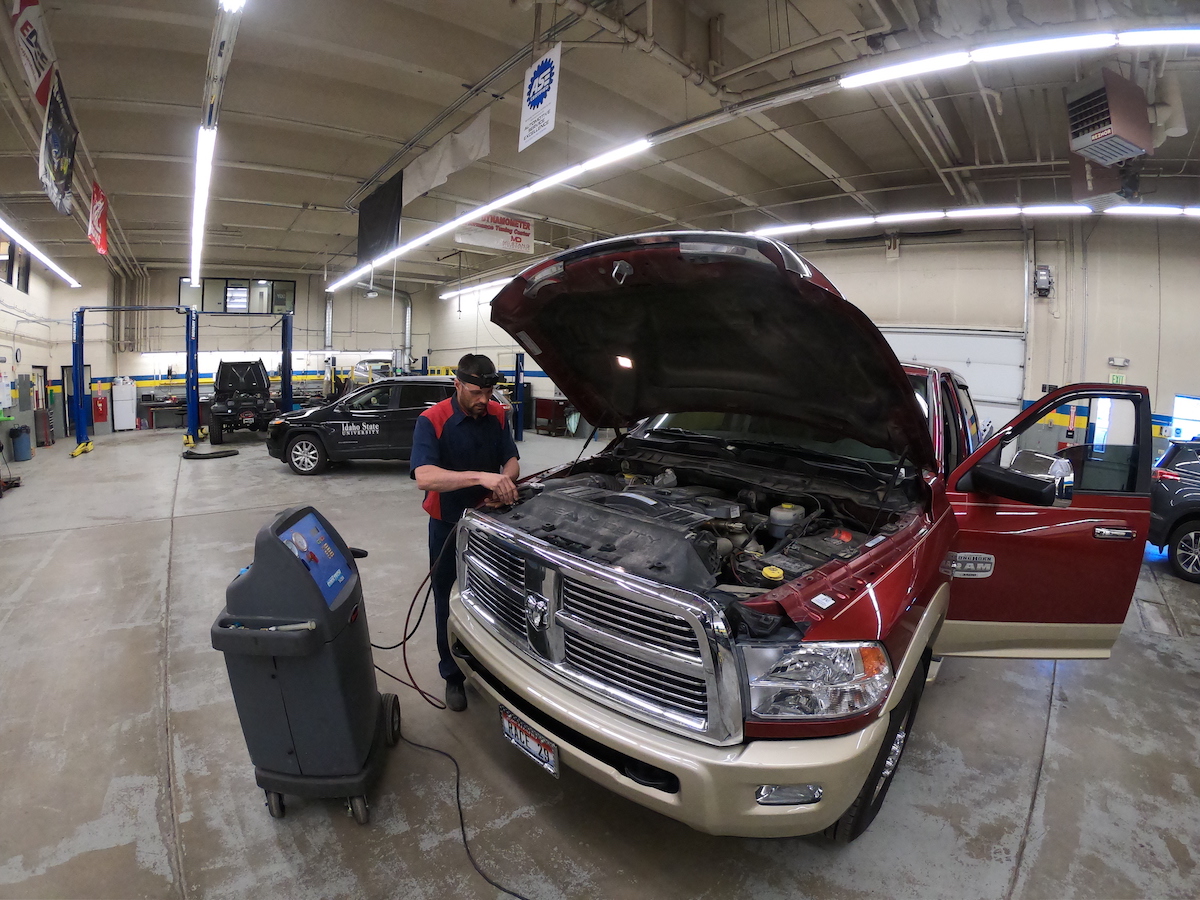 POCATELLO – Since his Automotive Live-Work class students can't come to the Idaho State University College of Technology's automotive shop, ISU automotive technology instructor Brock Gunter is bringing the shop to his students – virtually.
Gunter has gotten creative virtually teaching online what is generally a "hands-on" class, broadcasting classes on Zoom, using a GoPro camera to teach lessons and introducing his students to interactive online programs.
When there isn't a coronavirus pandemic going on, the College of Technology's automotive technology program's Automotive Live-Work course is a capstone, eight-credit, six-hour-a-day course where soon-to-be-graduating students have the opportunity to work directly on cars. But in April 2020, that just isn't possible.
"Usually the students are just in the shop all day long working on customer vehicles," Gunter said. "It has been very hard on my students because they are at the point where they are putting together everything they've learned to do to go out into the shop and work-live on cars. It's tough making that transition when they don't get hands-on experience."
One of the methods he uses is filming repair jobs he is doing with a GoPro camera, and then embedding that video inside of a PowerPoint presentation that he presents to students virtually using the Zoom application.
"Using the GoPros, I am videoing while working on vehicles going through the whole diagnostics and repair process, and do the paperwork as well," Gunter said.
This week Gunter is creating a lesson on replacing an engine, an 8- to 10-hour job. He will film the entire process and then using time-lapse shooting and editing he will reduce the job to a 10- to 15-minute video. The video can be stopped for question-and-answer sessions.
"Brock is going over the top showing the cars and showing the problem," said Trapper Miles, a student in the program from Blackfoot. "He makes it as close to being hands-on as it can be."
Miles said he appreciates the interactive aspect of the virtual class.
"You can talk to him and ask as many questions as you need, all the while being in the safety of your controlled environment," Miles said. "Brock goes above and beyond to make sure we understand a lesson as well as if we were in a class next to him."
Gunter is also having his students use "e-learning" books and online lessons.
"In the automotive world, there are all kinds of e-learning books out there," he said. "One of the ones I am using is Electude, an e-learning platform with over a 1,000 interactive lessons. The best thing for my class is the diagnostic simulator where the students have to pick a tool out of their virtual tool box and use it. It is pretty good for diagnosing care without having hands-on work available."
Gunter said it has been a challenge to prepare for classes. His prep work includes creating the PowerPoint presentations that have his instructional videos embedded in them and then has an interactive Zoom meeting with his students where he asks them what they'd do in specific situations.
Changing a hands-on class to a virtual class has also been challenging for his students
"I'd say it has even been a bit tougher for my students," Gunter said. "They look forward to this class – it is usually the favorite part of the program where they just get to work all day long and don't listen to a lecture. I'm doing my best to simulate online what we are generally doing out in the shop."
His students have expressed appreciation for his efforts.
"I think it's an awesome experience even though it is very different," Miles said. "Brock has made it interesting and it also is something to look forward to."