Idaho State University 2020 Outstanding Student Award recipients announced
April 28, 2020

POCATELLO – Idaho State University and the ISU Alumni Association proudly announce the 2020 Outstanding Student Award recipients who are being honored this spring and who will graduate May 9.
The 12 Outstanding Student Awards are presented to recognize outstanding graduating seniors who have excelled in their programs, their extracurricular activities and have epitomized ISU's outstanding student body. Students receiving these prestigious awards exhibit a readiness to graduate, high academic achievement, above-average dedication to academic and professional goals and involvement in professional societies. Work experience and community service are also considered.
For more information on the awards, contact the Office of Alumni Relations at 208-282-3755 or email alumni@isu.edu.
Outstanding Student Award recipients for 2020 are Dustyn Slade-Lee Walton, Gillette, Wyoming, College of Education; Sophia Perry, Eagle, College of Business; Charles Alan Kibbie, Seattle, Washington, College of Technology; Selene Ortiz, Aberdeen, College of Arts and Letters – Fine Arts and Humanities; Kathryn Hogarth, McKinney, Texas, College of Science and Engineering – Engineering; Caleb J. Renner, Inman, Kansas, College of Sciences and Engineering – Natural Science and Physical Sciences; Cheyenne Dawn Stallions, Emmett, College of Health Professions; Jenna Hansen, Buhl, College of Rehabilitation and Communication Sciences; Kristin Cleverdon, Meridian, College of Pharmacy; Kelsey Shea Scott, Deary, College of Nursing; Averi McFarland, Rexburg, Graduate School – Master's; Sheherezade Krzyzaniak, Federal Way, Washington, Graduate School – Doctoral.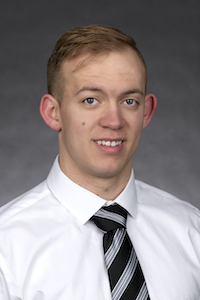 • College of Education – Dustyn Walton, Gillette, Wyoming, Bachelor of Science in Physical Education, Psychology Minor, College of Education—Walton has shown himself to be a leader among leaders while at ISU. Serving as a mentor for the University Honors Program and as a First Year Transition mentor, he set standards well beyond program expectations, motivating other mentors to raise the bar as well.
His abilities as a role model and group motivator led one nominator to describe Walton as the glue to their group, saying "He was a fantastic role model for the other mentors. At campus activities, he constantly engaged first year students who were hesitantly standing apart from the crowd, in upbeat and supportive conversations."
Being a first-generation college student, attending college a nine-hour drive nine from home was initially a daunting prospect for Walton, but he was able to create a new home for himself in the Honors Program. Learning from his own experiences as a new student, Walton was able to empathize and help new students adjust to college life.
As a physical education major with an emphasis in exercise science and a psychology minor, Walton has been involved in research that will potentially affect recommendations for geriatric care. He has maintained at 3.88 GPA and will graduate with honors distinction.
Walton will be continuing his education at ISU, pursuing the Master of Science degree in athletic training and Doctor of Physical Therapy dual degree.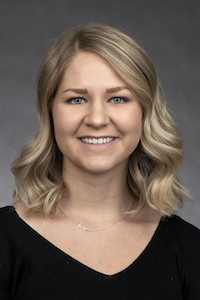 • College of Business, Sophia Perry, Eagle, Bachelor of Business Administration in Marketing and Management —As a third generation ISU Bengal, Perry always knew where she would choose to go to college. Following in the footsteps of both parents and her grandmother, Perry made ISU her new home.
Like her brother, Perry chose to enter ISU's College of Business. Perry is uniquely driven, pursuing two majors, management and marketing, as well as two minors, Spanish and professional writing. She was able to do all this while maintaining a 3.97 GPA. One professor noted that "Sophia is the entire package. She is wicked smart and incredibly hard-working."
Perry excels outside the classroom as well. She has worked in Student Service for the College of Business for three years. Her exemplary work led to her being named the 2020 ISU Student Employee of the Year. She is known for her positive, can-do attitude. Her supervisor says she sets the tone for the entire office. She is often found going out of her way to help students and inspires other student workers to be more engaged.
Perry is planning to go on to graduate school. She will continue her education at ISU in the Master of Business Administration program in the fall.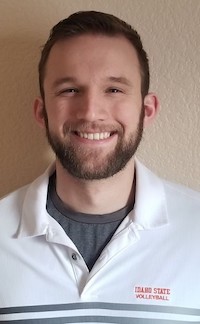 • College of Technology – Chuck Kibbie—Seattle, Washington, Bachelor of Science Robotics, College of Technology—One may expect Chuck Kibbie to have felt a bit lonely coming to ISU, leaving his 11 brothers and sisters behind in Seattle. He has been an uncle since he was a year old and now has 33 nieces and nephews.
But Kibbie found a new home at ISU, where, as he said, "there is a club for everyone, and if you don't find one that quite fits your ideal, the university is great at facilitating new clubs. The university is a playground for someone with drive."
Kibbie found his perfect playground in his roles as president of the Robotics Club and the ISU Volleyball Club. He even served as a volunteer assistant coach for the ISU Women's Volleyball Team.
Juggling athletic pursuits and multiple club memberships along with a rigorous academic program, was difficult at times, yet Kibbie was able to manage it all while maintaining a 3.84 GPA. In his capacity as the President of the Robotics Club, Kibbie was instrumental in organizing the VEX competition, providing opportunities for junior high and high school students to explore robotics. Kibbie is known for his exceptional outlook on life, and ability to lift those around him. A nominator applauded that he "is able to motivate productivity and effectively maintain a spirit of camaraderie among classmates."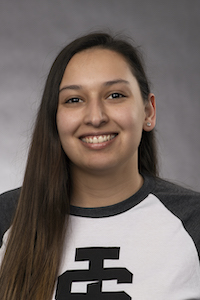 • College of Arts and Letters – Selene Ortiz, Aberdeen, Bachelor of Arts in Spanish and Global Studies – Ortiz never let the common hesitations of a first-generation college student get in her way. Grabbing on to every opportunity possible, Ortiz is graduating with honors, double majoring in Spanish and global studies with a minor in studio art. She has maintained a 3.85 GPA. Despite commuting between Aberdeen and Pocatello every day, Ortiz never missed a class. Even during winter driving conditions, when her professors encouraged students to stay off the roads, Ortiz arrived—on time—and usually with another classmate in tow.
Ortiz spent a semester abroad in Valencia, Spain, where she explored the different aspects of Latino culture. Her experiences there exposed her to great art, which cemented the pursuit of her minor in studio art.
She also had the opportunity to present her research while studying in Spain. Ortiz's research involves knowledge and attitudes about opioids among Hispanic populations in Idaho. During her research, Ortiz proved to be compassionate and attentive while interacting with local Hispanic populations. In addition to her academic pursuits, Ortiz volunteers with the Aberdeen School District as a Spanish-English translator during parent/teacher conferences.
Ortiz was accepted into the prestigious TRIO McNair program, designed to provide additional support and guidance to exceptional juniors and seniors from underprivileged backgrounds who are considered strong candidates for doctoral programs. She will be attending the University of Notre Dame as a graduate student in the fall.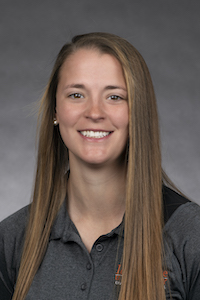 • College of Science and Engineering—Engineering – Kathryn Hogarth, McKinney, Texas, Bachelor of Science in Civil Engineering, College of Science and Engineering —Some would say Hogarth has turned juggling into an art, as she has flawlessly managed her academic, work, athletic and extracurricular pursuits.
As a civil engineering student, with a 3.81 GPA, Hogarth has worked on projects with the Idaho National Laboratory and the Idaho Transportation Department. In the 2018-2019 school year, she was awarded ISU Student Employee of the Year, while working for ISU's Civil and Environmental Engineering Department. She is also a student athlete, playing the position of starting goalie on ISU's Women's Soccer team. Hogarth has also served as the president of the student chapter of the American Society of Civil Engineering in the 2019-2020 school year and is a member of the University Honors Program.
Engineering is a family affair for the Hogarths, both Kathryn's parents are engineers and have encouraged her from a young age to follow her passion for building things. During her studies at ISU, Hogarth worked on the design project to return the "I" to Red Hill. She also worked jointly with the INL and the Center for Advanced Energy Studies to design disaster preparedness and recovery simulations for collapsed buildings, to help first responders train to save lives. In a project with the Idaho Transportation Department, Hogarth was able to test the largest specimen in the state of Idaho's history in ISU's Structural Lab.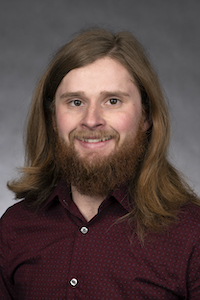 • College of Science and Engineering—Natural and Physical Sciences – Caleb Renner, Inman, Kansas, Bachelor of Science in Geology and Geotechnology, College of Science and Engineering—Natural and Physical Sciences— Renner could arguably be described as a modern-day Renaissance man. He completed four years of undergraduate research projects in geology and geotechnology that rivaled the depth and scope of a graduate-level project. He also played trombone in the Idaho State Civic Symphony, interned for NASA and tackled the many rigors of the Idaho outdoors. Renner was able to accomplish all this while maintaining a 3.95 GPA.
His research was focused on comparing possible lava flows at Craters of the Moon with those located on Mars. He wrote and successfully won a $10,000 research grant, competing against graduate students. Even when he had met the required hours for his honors project, Renner continued to visit his research site throughout the summer months, to test interpretations of his data. His research mentor commented, "He is among the most impressive students I have ever had the privilege of working with, and I fully expect him to be one of my research colleagues someday."
In addition to his academic pursuits, Renner has been enjoying all that Idaho has to offer, participating in road and mountain biking, rock climbing, trail running, cross-country and downhill skiing. He is an active member of his church and participant in the Crossroads Christian Fellowship organization.
Renner is graduating summa cum laude and has the added distinction of graduating from the University Honors Program.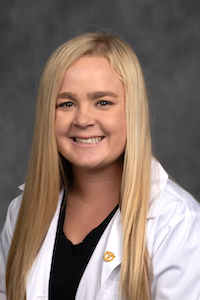 • College of Health Professions – Cheyenne Dawn Stallions, Emmett, Bachelor of Science in Dental Hygiene, College of Health Professions—Stallions arrived at the University in 2018 as a transfer student, but she proved her drive for success well before setting foot at ISU. As a high school student, she graduated with 49 dual enrollment credits while maintaining a 3.85 high school GPA. That, combined with stellar athletic abilities, landed her a softball athletic scholarship at Yakima Valley College. Since her acceptance in the ISU Dental Hygiene program, she has definitely made her mark at ISU. Stallion was unanimously chosen by the entire Dental Hygiene faculty to be nominated for this award.
In addition to her academic success, graduating with an almost perfect 3.96 GPA, Stallions has proven to be especially talented in her clinical skills. She is known for her ability to build relationships with her peers, the faculty and especially her patients. This ability has made her particularly adept at creating personalized treatment plans for her patients.
Stallions is exceptionally civically minded and has performed countless hours of community service, both within her field of study and beyond. She has performed more than 465 hours of community service as a dental hygiene advocate alone. She has also shown great interest in the senior population, providing assessment and education to seniors, in addition to working with the Idaho Food Bank to box food for the elderly.
• College of Rehabilitation and Communication Sciences, Jenna Hansen, Buhl, Bachelor of Science in Health Sciences, College of Rehabilitation and Communication Sciences—Raised by parents in the military, Hansen moved around a lot while growing up. From Guam to the tiny town of Buhl, where her family decided to settle, Hansen has experienced diverse living situations. Hansen began her academic career at College of Southern Idaho and transferred to ISU in 2018, where she chose to pursue a degree in health sciences with an emphasis in occupational therapy. The ISU occupational therapy program has become a family tradition in the Hansen family, as her brother also pursued occupational therapy at ISU.
Maintaining a 3.81 GPA, Hansen has quickly moved through the program, completing the requirements to enter the Master of Occupational Therapy program in three years instead of the traditional four. She was able to begin her first year of grad school during her senior year of undergraduate work. A nominator notes that she, "has strong academic skills, and can hold her own with students who are more than twice her age."
Hansen is a member of the Phi Theta Kappa Honor Society, where she served as Vice President of Leadership.
• College of Pharmacy, Kristin Cleverdon, Meridian, Doctor of Pharmacy, College of Pharmacy—Kristin Cleverdon has experienced ISU in just about every way possible. She began her ISU career before she had even graduated from high school through the dual credit program. Working concurrently from her high school in Meridian, Cleverdon graduated with an associate's degree from ISU at the same time she graduated from high school.
She finished her undergraduate work on the ISU campus in Pocatello, where she participated in the University Honors program and spent one year as a resident assistant.
She ultimately completed her ISU education in the PharmD program in Meridian. Cleverdon graduates with a Doctor of Pharmacy degree and has maintained a 3.9 GPA.
During her PharmD studies, Cleverdon was able to help serve the Treasure Valley community through giving flu shots, providing health screenings for diabetes and heart disease, and educating children about medications. A Career Path Internship working at the Medication Therapy Management Clinic helped Cleverdon make the decision to work in an outpatient setting after graduation, helping patients manage their chronic disease states.
A world traveler, Cleverdon has visited exotic locales, such as Cambodia, Nicaragua, France and Spain.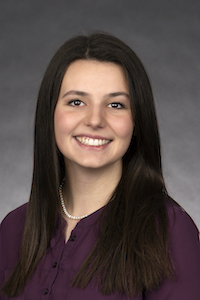 • College of Nursing, Kelsey Scott, Deary, Bachelor of Science in Nursing, College of Nursing – Never one to just follow the normally prescribed road, Scott is known for seeking out additional challenges and knowledge. She is known for her desire to learn, as opposed to merely earning a grade. With a perfect 4.0 GPA, Scott was able to thrive in a rigorous learning environment, while carrying 18 or more credits a semester.
Despite an already full load, she shouldered the added rigor of the University Honors Program to her other academic pursuits. During her rotation in obstetrics, she was eager to gain additional knowledge in the Neonatal Intensive Care Unit and worked overnight shifts to obtain that experience—despite the fact that it wasn't a required part of the curriculum. For her internship she chose to work in a geriatric psychiatric unit because she didn't know very much about the population. As a result, she is earning an additional certification in geriatric care.
Outside her academic pursuits, Scott has been working as a Certified Nursing Assistant for three years at Firth Medical Center. She played on the ISU Women's Rugby team, serving as team captain. She also served as the University Honors Program Club President.
Scott plans to gain a few years' experience in the nursing profession, before returning to school to become a family nurse practitioner.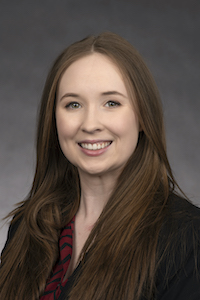 • Graduate School – Masters Recipient, Averi McFarland, Rexburg, Master of Science in Microbiology – McFarland has spent the last six years of her life at ISU, first in pursuit of a Bachelor of Science in 2017, followed by a Master of Science in microbiology. She is graduating this May with a perfect 4.0 GPA.
She has shown great personal and academic maturity, completing her master's coursework in only two years, where others often take three years to finish. McFarland was the recipient of the prestigious Graduate Fellowship from the ISU-INBRE, a competitive award given just once every two to three years to one ISU graduate student.
McFarland has presented her research both locally and nationally, and each time was selected to give an oral presentation in addition to a poster. At one national conference, she was the only master's student among doctoral students to receive a poster award. Her mentor wrote, "She articulates her research so well, that many professors were amazed that she was only a first-year master's student. Some even began recruiting her to their PhD program."
McFarland is planning to pursue a doctoral degree and is in the process of applying to graduate schools across the United States.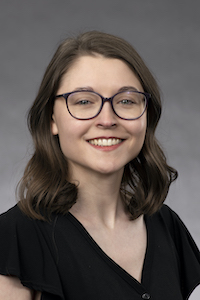 • Graduate School—Doctoral, Sheherezade Krzyzaniak, Federal Way, Washington, Doctor of Philosophy in Experimental Psychology – Krzyzaniak is known as a master communicator among her professors. One nominator noted "she is a force!" when presenting her research. Krzyzaniak has an ability to teach and present her research with great power and help the audience not only understand, but become excited about her work.
Krzyzaniak is graduating with a doctorate in experimental psychology and has maintained an impressive 3.93 GPA. Her research has focused on people's ability to accurately judge others. She specifically focused on college-age young adults' abilities to accurately judge middle adults, their parents' age group, and older adults, their grandparents' age groups.
Her research yielded some surprising results. Despite known negative feelings many college-age young adults hold against middle-aged and older adults, they were still able to judge those age groups with a fair level of accuracy. Practical applications of this research show that young adults moving into decision-making positions that will affect middle-aged and older adults, can generally be trusted to understand the needs of those groups and make accurately informed policies and decisions.
During her studies at ISU, Krzyzaniak has published extensively. She has four publications, including one first-authored and one co-authored empirical paper in peer-reviewed psychology journals. She also has two manuscripts under review and is working on four additional manuscripts.
Her graduate experience at ISU has helped Krzyzaniak gain a great love for teaching. Her desired career path is to teach in higher education.
---
Categories: