Grammy-Winning Steep Canyon Rangers defy music labels – Feb. 20 ISU concert to feature eclectic blend of rock-n-roll-tinged bluegrass
January 30, 2020
By Andrew Taylor, Assistant Marketing Director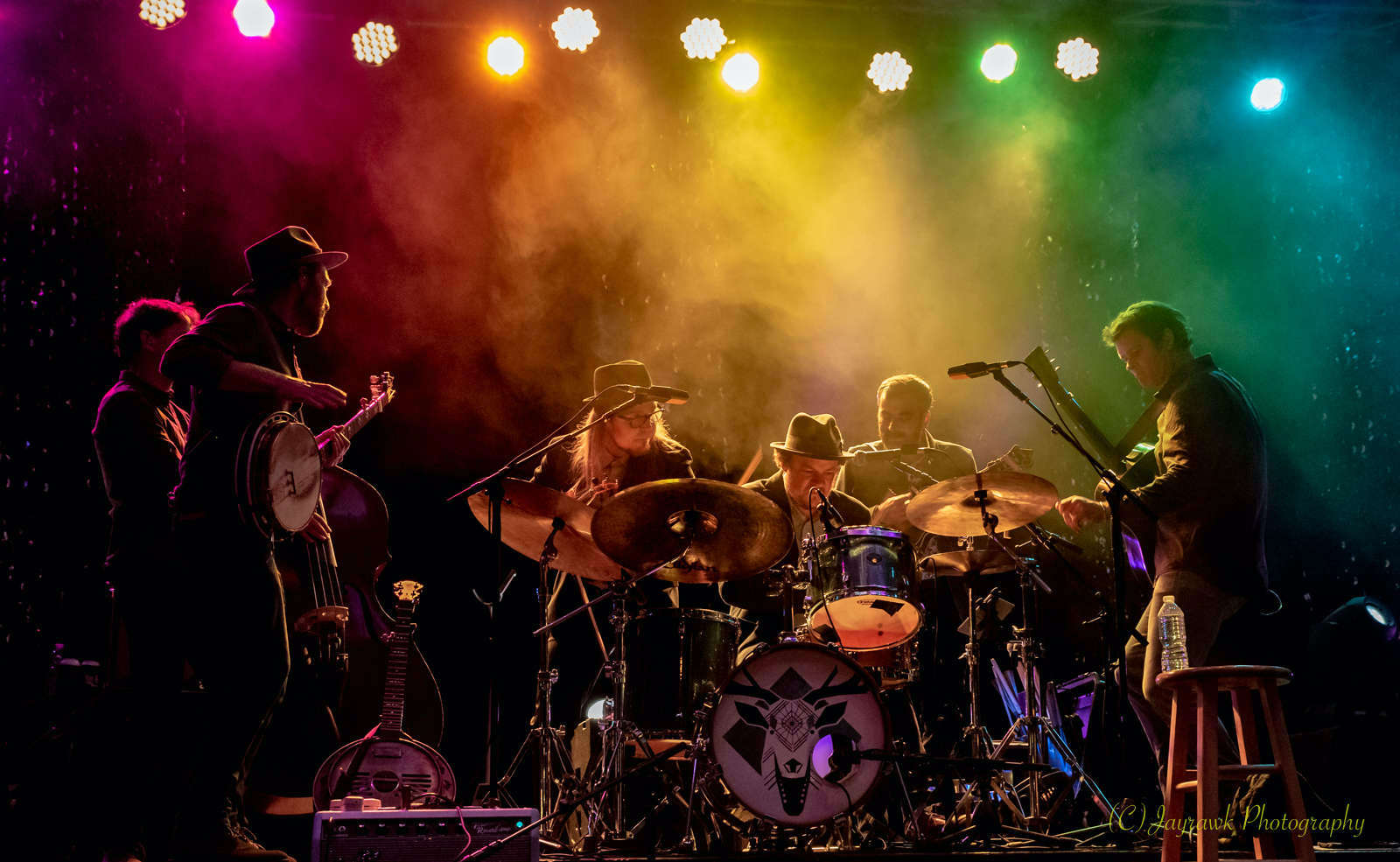 POCATELLO – Expect a high-energy, well-crafted mix of bluegrass music blended with rock-n-roll influences when the Grammy-Winning, six-member Steep Canyon Rangers step on stage for their 7:30 p.m. Feb. 20 A Season of Note concert at the Idaho State University Stephens Performing Arts Center Jensen Grand Con cert Hall.
This Ashville, North Carolina-based band – which has been together and touring for more than 20 years – is excited about playing in Idaho again. Don't expect them to sound like any other bluegrass band you've heard.
"It's pretty tough to describe our sound," said band member Mike Guggino. "We are a bluegrass band at our core but we have a drumkit and are incorporating some electric instruments. 'Americana' is such a vague word, but we play a mix of it with bluegrass elements and rock-and-roll, but we are still mostly acoustic. Our newest record is more like rock and roll, but it is rooted in bluegrass music, too. What we like about ourselves is that we are unique and don't sound like anybody else."
Steep Canyon Rangers has spent nearly two decades bending and shaping the bluegrass aesthetic, wedding it to elements of pop, country, and folk rock to create something original.
"Expect a high-energy show," Guggino said. "We carry our own lighting and sound guy. The quality of our show high and is really entertaining. We really think about crafting the show song list, with quiet parts and loud parts. It is not the same thing over and over. Our show is pretty dynamic."
The band has just finished working on a new album and is touring widely this spring. The core group of four members has been together for the band's full 20 years and the other two members have been playing with them for about a decade. The band features a drummer, bassist, guitar, mandolin, fiddle and banjo.
Since Steep Canyon Rangers came together in 2000, they have developed a remarkable catalogue of original music that links them to the past while also demonstrating their ambitious intent to bring string-based music into contemporary relevance.
The band's albums include "Out in the Open" (2018), "Radio" (2015), "Tell the Ones I Love" (2013), "Nobody Knows You" (2012), "Lovin' Pretty Women (2007) and "One Dime at a Time" (2005). The group has also toured and recorded with Steve Martin on several albums through the years.
For more information on the group and to listen to music samples visit www.steepcanyon.com.
For the Feb. 20 concert the cost is $35 for main level seating and $30 for upper level seating.
For more information on the 2019-20 Season of Note, contact the Stephens Performing Arts Box Office at (208) 282-3595. Ticket information and purchase is available at www.idahostatetickets.com or by calling the Stephens Center Box Office.
Idaho State University, a Carnegie-classified doctoral high research activity university and teaching institution founded in 1901, attracts students from around the world to its Idaho campuses. At the main campus in Pocatello, and at locations in Meridian, Idaho Falls and Twin Falls, ISU has nine Colleges, a Graduate School and a Division of Health Sciences that together offer more than 250 certificate and degree programs. More than 12,000 students attend ISU. Idaho State University is the state's designated lead institution in health professions.
---
Categories: