Embracing minority student leadership – ISU's Orellana attends program that helps create future leaders
January 10, 2020
Chris Cole, Marketing Assistant Kasiska Division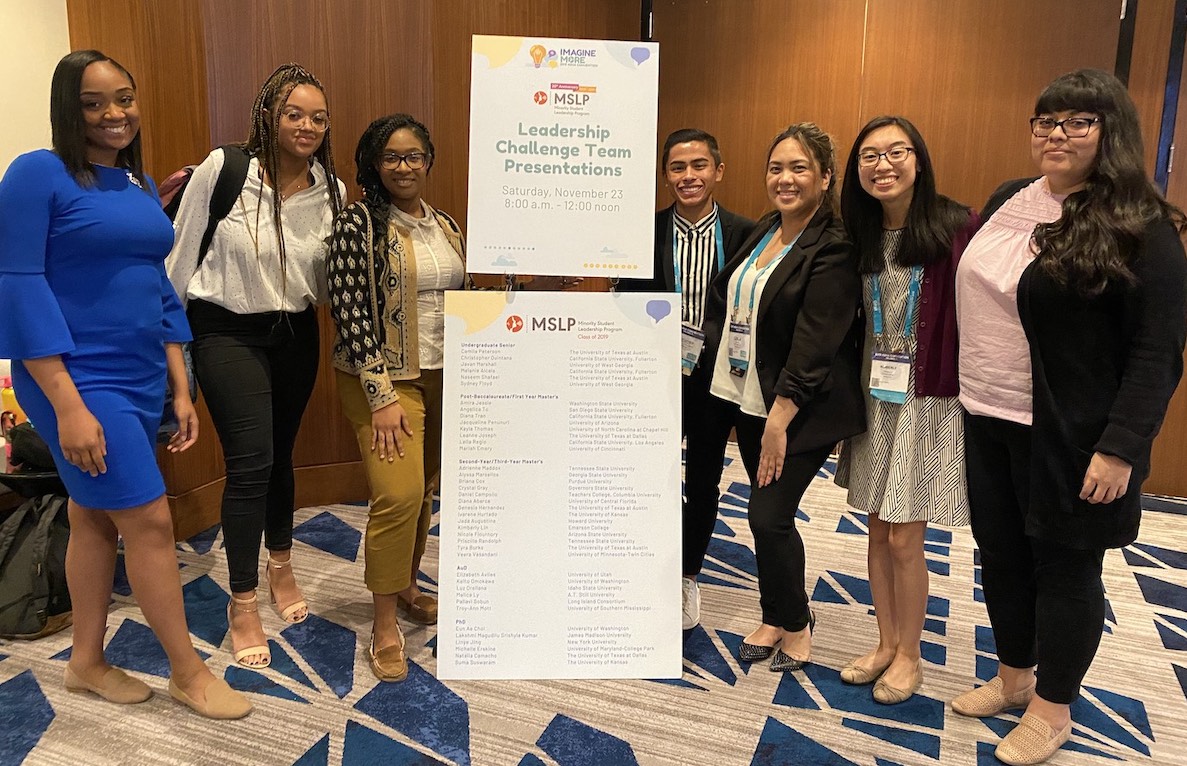 POCATELLO - One Idaho State University student leader is learning to help migrant families through her major, audiology.
Luz Orellana, a second year audiology student at ISU, used her unique experiences as a part of the Minority Student Leadership Program at the recent American Speech and Hearing Association (ASHA) convention, to better help migrant families from Spanish speaking countries.
During this convention, Orellana learned how to address major issues from a minority standpoint, navigate race and ethnicity in a leadership role and how to educate non-native speakers who may do or say something that could be considered offensive.
Orellana, who was born in Guatemala and raised in California, said the conference was a great way to make connections with people like her.
"It's really nice to have that community of people who might understand where I'm coming from, but they also know where I'm going," Orellana said. "I was an undocumented immigrant growing up, and there are other students who went through the same thing. So I thought it was a really great experience."
Orellana worked with a group on assigned topics to present solutions to the issues minorities continue to face, like decreased funding for public education. She also learned some interesting information to help her better navigate being a minority and student leader ­– skills that will translate perfectly into practice after graduation.
"Somebody made a comment saying that the population of minorities is now up to 56 percent," Orellana said. "So we're no longer the minority – we're just underrepresented."
She said the experiences she had in the Minority Student Leadership Program at the ASHA conference helped her learn how to handle issues like underrepresentation in the future.
"If I do feel there's an issue I'm experiencing and other professionals are also experiencing, I can possibly step into a role of leadership and do something about it, and I'd have the tools and resources to know where to start and who to recruit to ask for help," she said.
Orellana has come a long way to be a student leader and an audiology student. Her parents achieved only elementary-level education before they had to go to work, and she is currently the only member of her family to seek higher education beyond a bachelor's degree.
Before she went on the trip, she was worried about paying the high cost of the flight, plus being out of work for a week. Orellana, an employee at the Oboler Library on campus, wrote a proposal at the suggestion of a coworker, explaining to her employer all that she had learned and how it had helped her grow in her program.
The library not only offered to reimburse her for the cost of her airfare, they created a student scholarship directly because of her efforts and example.
In the future, she plans on working with pediatrics, including kids who are on the autism spectrum and who live with Down syndrome, as well as migrant families both in the United States and on what she hopes to be annual trips to Spanish-speaking countries.
"I can help them better if I can speak Spanish directly to them instead of having an interpreter," Orellana said.
Orellana said she feels this work in Spanish-speaking countries is vital, and appreciates the opportunity to present them with reduced-cost or donated hearing aids she can give to those kids in need.
"A lot of times, in those countries, if the kid falls behind, that's it," she said. "There's no special ed, there's no one-on-one aid to help them. So, especially with kids, if they can't afford it, we'll just give it to them because we want the kids to be able to hear."
---
Categories: