Construction work begins on $7.1 million ISU Davis Field renovation
March 18, 2020
By Andrew Taylor, Assistant Marketing Director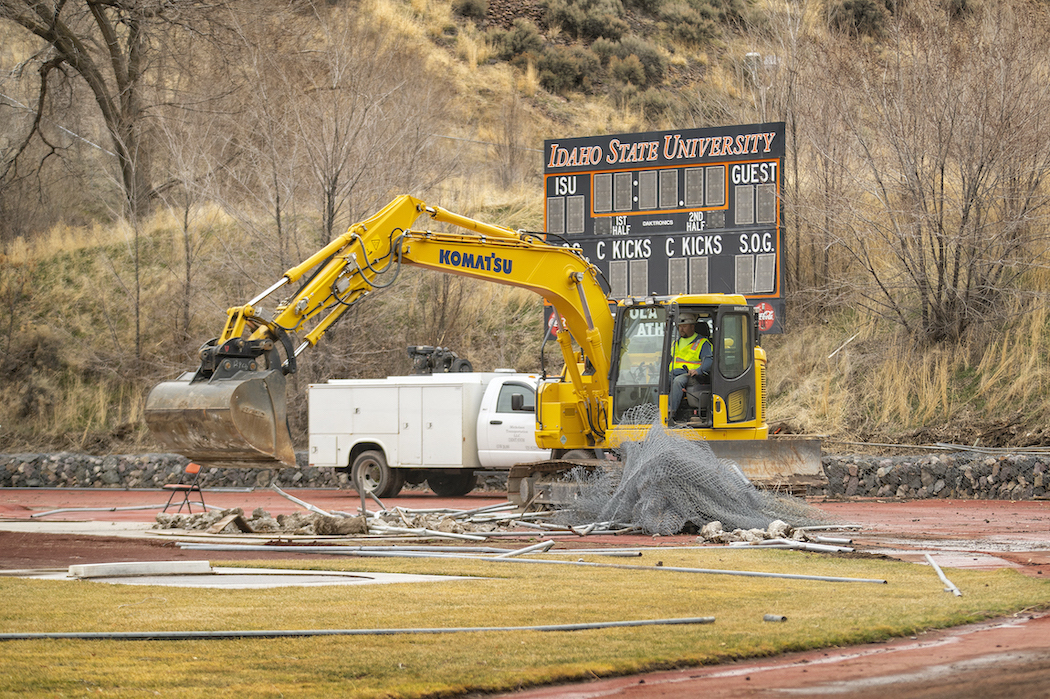 POCATELLO – Construction began on Idaho State University's $7.1 million Davis Field renovation on Wednesday, March 18, to restore and improve the soccer field and track and field-events area, replace the deteriorating seating on the east and west sides, and add lights.
"Davis Field has been a gathering place for our Bengal community for more than 80 years, and today, construction begins on its next chapter," said Kevin Satterlee, ISU President. "I join other Bengals who are celebrating this exciting milestone."
Davis Field, home to ISU track and soccer, is a beautiful historic facility in the heart of the ISU campus located at the base of Red Hill. It was originally constructed in 1937 under the Public Works Administration "New Deal" program of the Federal Government. The facility housed the football team until 1969. Construction is expected to be completed by November 2020
"Being at this iconic site," Satterlee said, "Bengals can embrace some of the best of our history – legendary coaches like Babe Caccia and Dubby Holt, our ISU Olympic champion Stacy Dragila and thrilling wins by our football, track and soccer teams – all show the character and tenacity of the Bengal community, which is now investing wisely in its future."
The $7.1 million – the total project cost including contingencies – covers the costs for a number of improvements and maintenance that include:
• Widening the soccer field to meet NCAA requirements and creating a 5-foot runout space between the sideline and the track, thus improving athlete safety.
• Removing the west and south berms to create much-needed space to co-locate Soccer and Track together in a modern facility.
• Replacing the east bleachers with a terraced grass hillside for informal seating.
• Modifying the track geometry to increase the speed of the track. The track will also be leveled to eliminate an 18-inch height differential between the east and west side.
• Adding LED lights to extend practice and competition times into the evening. The lights will also have an entertainment package that will flash for player introductions and gameday special effects.
• Replacing the west bleachers with new aluminum bleachers that provide ADA accessibility.
• Providing a concrete screen wall designed to appear as natural rock around the south and east side to help retain the existing bowl feel of the facility.
• Providing a new video scoreboard that addresses the needs of Track and Soccer.
• Designing the entire facility has been designed to comply with ISU's new branding initiative including the track surface and walls.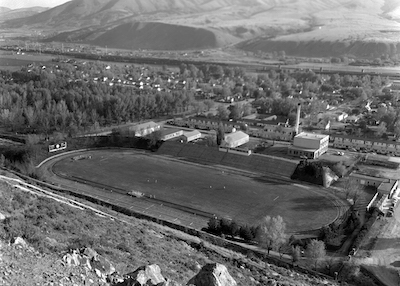 These improvements will elevate the facility to meet NCAA standards for hosting competitions and championships, including Big Sky Conference and NCAA regional and national events. ISU has not hosted an outdoor track meet since 2007, and soccer has struggled to schedule non-conference opponents willing to play in the facility. The new facility will allow for a dramatic increase in home competition opportunities.
Athletic Director Pauline Thiros said, "The renovation of Davis Field demonstrates our commitment to do the right things to support our programs, to maintain our facilities, and to provide our students and community with the experience they should expect from a Division I athletic program. I am proud of our leadership team for seeing this through, for rejecting the notion that it was not to be. This project is the meaningful beginning of the realization of our long-term vision. This renovation will reflect our proud history, and it will also reflect the excellence that is now the expectation in Bengal Athletics."
During construction, the soccer team will practice and host games at the Idaho Central Credit Union Community Field at Papenberg Sports Complex, which is on the south side of Holt Arena. Track will use Holt Arena and other local venues for practice.
The construction manager and general contractor for the project is McAlvain Companies Inc. from Boise. The project engineer is Keller Associates with offices in Meridian and Pocatello.
"Facilities Services is excited to support the renovation of this important venue that will benefit our student athletes, coaches, and community," said Cheryl Hanson, associate vice president, Facilities Services. "We have been planning this project since 2014 and have enjoyed working closely with ISU Athletics and their coaches."
Image information: middle image, artist rendering of renovated Davis Field; bottom photo, historic photo of Davis Field.
---
Categories: