CAES Codebreaker Seminar Series features ISU's Larry Leibrock on cybersecurity
March 2, 2020
Dr. Larry Leibrock, a professor of computer science and information assurance at Idaho State University who holds a joint appointment with INL, will discuss "raspberry pi" and ways to protect your online passwords at CAES' monthly Codebreaker Seminar Series on March 5 at 3:30 p.m. in the Center for Advanced Energy Studies Auditorium in Idaho Falls.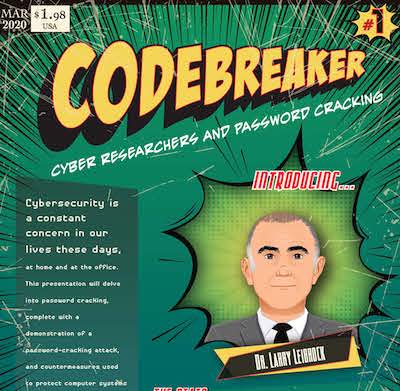 Pizza will be provided.
Leibrock's presentation, Cyber Researchers and Password Cracking, will focus on countermeasures for protecting systems from attacks. He will also discuss password strength and provide a demonstration of a password-cracking attack using a "raspberry pi" – insider lingo for an inexpensive laptop computer. Leibrock is a former US Army officer and member of the intelligence community who served in military and intelligence operations all over the world. He was medically retired in 2013 after sustaining combat injuries in Afghanistan.
Leibrock is now a researcher at the
Informatics Research Institute
at ISU, where he also teaches courses on cyber threats, insider risks, the evolution of terrorism, and comparative policy response.
The CAES Codebreaker seminar provides a forum for students and researchers to address their work, communicate opportunities and challenges to a receptive audience, and increase dialogue among CAES affiliates leading to further interdisciplinary collaborations and new ground-breaking research. It takes place on the first Thursday of the month from 3:30-5 pm.
If you can't make it in person, live streaming will be available via Buejeans:
Meeting URL
https://bluejeans.com/445623200?src=join_info
Meeting ID: 445 623 200
Want to dial in from a phone? Dial 408.740.7256
Connecting from a room system?
Dial: bjn.vc or 199.48.152.152 and enter your meeting ID