Business senior Sophia Perry honored as ISU Outstanding Student Employee
April 17, 2020

POCATELLO – Idaho State University business senior Sophia Perry, double majoring in marketing and management, has been honored as the ISU Outstanding Employee of the Year by the ISU Career Center and Scholarship Office.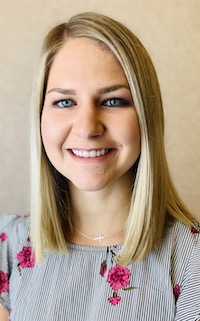 The award, commemorated during National Student Employment Week, recognizes outstanding student employees who go beyond their job requirements and provide exemplary service.
The runners-up for the 2019-20 academic year were Brenna Miller, College of Education; Taylor Snyder, dental hygiene; and Hunter Harris, computer science.
Perry works a great deal with current and prospective students in the College of Business and handles a variety of tasks in the background. Her position is fast paced and requires great customer service, stellar communication skills and superb attention to detail.
"Sophia is an outstanding example of what it means to be a leader in the Bengal community," said Kristine McCarty, College of Business director of graduate studies, one of Perry's supervisors. "She very much sets the tone for the student employees at the College of Business, contributing greatly to the positive culture that we strive for. She is able to articulately interact with people at all levels of our organization, and I always trust her to meet or communicate with prospective students."
In addition, McCarty said that Perry always volunteers to meet with students who walk-in without an appointment scheduled, even if it's close to the end of her shift. Perry will reschedule her personal plans to make sure that she can give the prospective student a great experience.
The senior also assists a College of Business's administrative assistant and the college's director of professional development with updating Handshake, a popular career-services software platform, and updates the college's newsletter with new internship/job opportunities. Perry began doing this time-consuming task without being asked. She regularly writes blog articles, conducts interviews and proofreads most of her office's recruiting materials and external communications with the college's marketing director.
Perry has provided informal training to other student employees as they enter. She is able to assist those new student employees with questions and concerns as they arise. Next year, she'll formally assist with onboarding for all new student employees to the college, McCarty said.
As part of her CPI position, Perry also has a major role in planning the Elevate Leadership Summit, a one-day leadership conference for business professionals in Southeast Idaho. She maintains the social media accounts and handles outreach for the summit. The summit is an important conference for the Southeast Idaho community because its proceeds support a youth leadership program (LEAP) in the high schools. Perry works with community members from Idaho Farm Bureau, Idaho Central Credit Union, Bannock Development, the Chamber of Commerce, and Leadership Pocatello-Chubbuck on this event and is always professional and hard-working. That planning group is consistently impressed with her organizational skills, maturity and professionalism.
Last fall, Perry and a group of three other students in ISU Assistant Professor of Business Alex Bolinger's "Collaborative Creativity" class wrote a book about the history of World War II in Idaho. The book, which is now in-press with Arcadia Publishing and will appear in print later this summer, required Perry and her colleagues to research and find historical photos from museums and archives throughout the state of Idaho and write captions telling the stories of those photos.
"Sophia emerged as a collaborative, team-oriented leader at every stage in the book's development Bolinger said. "She also fielded interview requests from local publications interested in the project."
Bolinger said Perry's ability to articulate the importance of remembering World War II and honoring the "greatest generation" led documentary filmmakers from Idaho Public Television to feature her and her peers in an upcoming documentary, to appear statewide later this year or in 2021, in honor of the 75th anniversary of the end of World War II.
"The benefits of that book and documentary in publicizing the opportunities available at ISU will last for years to come, but they would not have been possible without Sophia's steady leadership, talent as a communicator and determination to see the project through," Bolinger said.
---
Categories: