Arbor Day Foundation honors ISU with 2019 Tree Campus USA recognition
March 31, 2020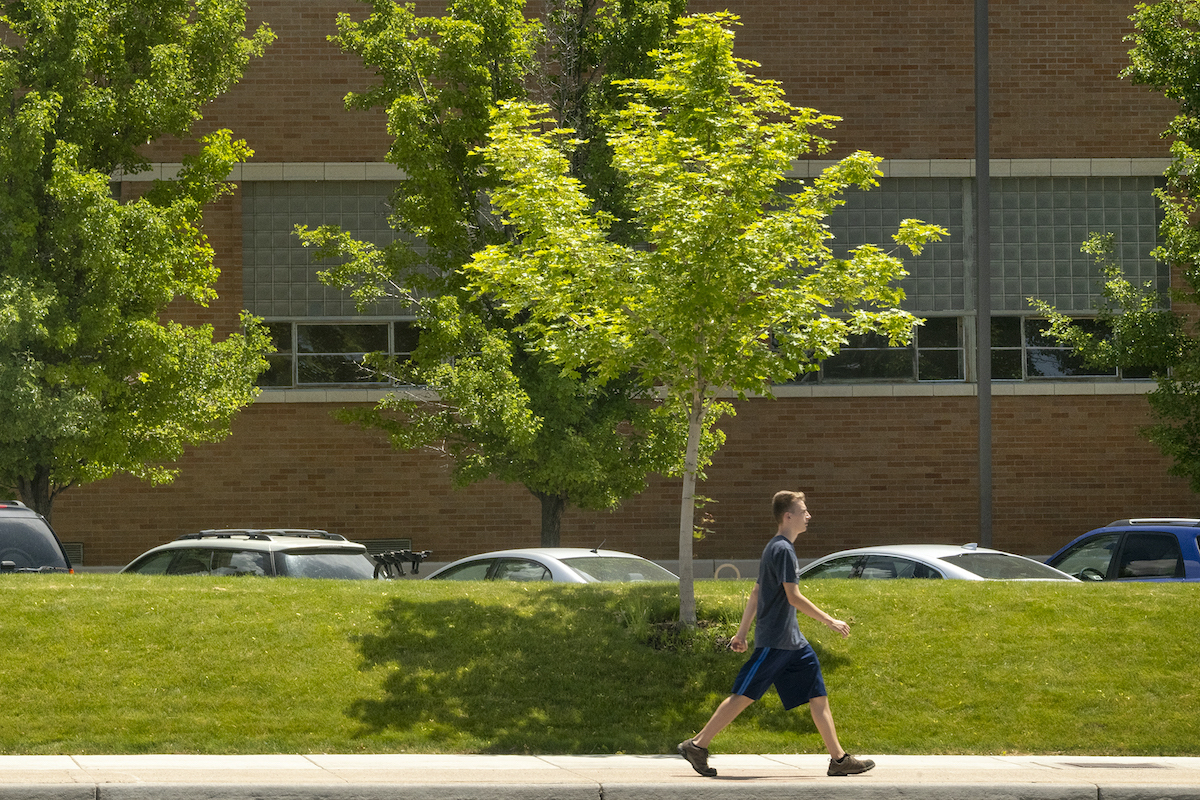 POCATELLO – Idaho State University was honored with 2019 Tree Campus USA recognition by the Arbor Day Foundation for its commitment to effective urban forest management, a designation that would never have happened without the Jack and Mary Lois Wheatley family's support of campus beautification projects.
"This is something we've been working on for quite awhile, and we've been actively pursuing it the last couple of years," said Chris Wagner, ISU landscape manager. "We thought that becoming a Tree Campus USA campus was an important step in solidifying the fact we are doing the right things at ISU. We care about our tree forestry on campus and are improving every year."
The Tree Campus USA program honors colleges and universities for effective campus forest management and for engaging staff and students in conservation goals. ISU achieved the title by meeting Tree Campus USA's five standards, which include maintaining a tree advisory committee, a campus tree-care plan, dedicated annual expenditures for its campus tree program, an Arbor Day observance and student service-learning project. Currently there are 385 campuses across the United States with this recognition.
"We want to thank everybody that has helped us accomplish this – the tree campus advisory committee, my staff, the ISU GIS program and everybody who was involved with helping us get this designation," Wagner said.
Wagner also expressed ISU's appreciation of the Wheatley family, which has funded many Pocatello campus beautification projects since 2010.
"The Wheatley family has been instrumental with their vision of planting trees on campus over nine years ago," Wagner said. "Their commitment to campus beautification has made the campus landscape improvements possible. Without their help and dedication our Pocatello campus would not be what it is today."
Landscaping improvements funded by the Wheatley family include the creation of four landscaped, illuminated brick and stone campus entrance markers; the creation of a veterans' memorial at Cadet Field; the planting of hundreds of trees throughout campus; the creation of`two seating circles in the Hutchinson Quadrangle, the planter along Cesar Chavez Avenue in front of the ISU Administration Building, and the landscaped berm and other improvements in front of Reed Gymnasium.
ISU will postpone the April 24 Arbor Day celebration and observance until a later date, during less tumultuous times.
ISU Facilities Services Grounds and Landscaping is working with the ISU GIS program to create interactive campus tree walks that will increase in scope as they are unveiled. Participants will be able to use their mobile phones to take different types of interactive campus tree walks.
"We would also like to get our Idaho Falls and Meridian campuses to receive this designation in upcoming years," Wagner said.
Dan Lambe, president of the Arbor Day Foundation, commended ISU's efforts.
"Tree Campuses and their students set examples for not only their student bodies but the surrounding communities showcasing how trees create a healthier environment," Lambe said. "Because of Idaho State University's participation air will be purer, water cleaner and your students and faculty will be surrounded by the shade and beauty the trees provide."
The Arbor Day Foundation has helped campuses throughout the country plant thousands of trees, and Tree Campus USA colleges and universities invested more than $51 million in campus forest management last year. This work directly supports the Arbor Day Foundation's Time for Trees initiative — an unprecedented effort to plant 100 million trees in forests and communities and inspire 5 million tree planters by 2022. Last year, Tree Campus USA schools have collectively planted 34,515 trees and engaged 33,432 tree planters — helping the Arbor Day Foundation to work toward these critical goals.
More information about the program is available at arborday.org/TreeCampusUSA.
---
Categories: