When Bengals Fly
November 24, 2020
Austin Terry, COB Graduate Assistant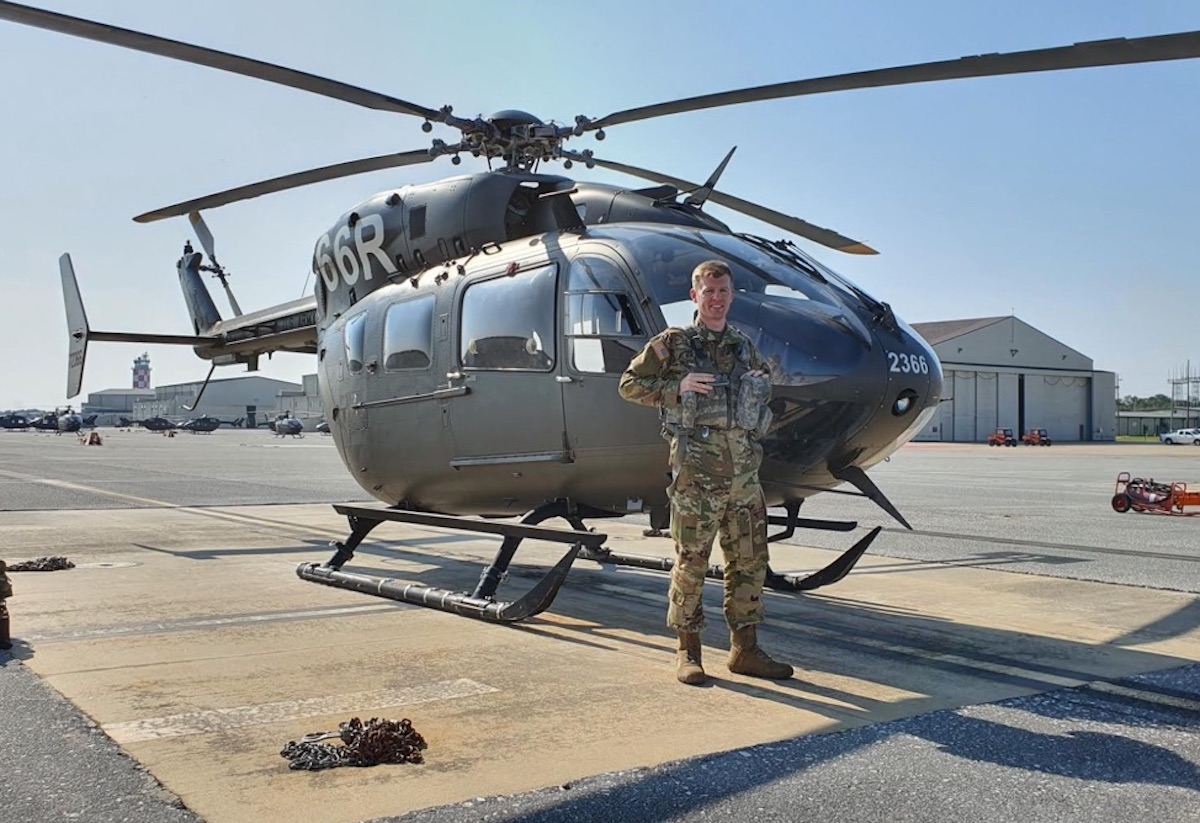 Alumnus Jonny Henderson has been busy since he graduated from Idaho State University with a Bachelor of Science degree in mechanical engineering with minors in both economics and military science.
Henderson currently works as an engineer for Lockheed Martin and a part-time Army officer in the Colorado National Guard. He is training on the UH-72 Lakota, pictured above, and will soon transition to the UH-60 Black Hawk.
When Henderson was asked how he would describe his experience at the College of Business, he replied, "My first College of Business class was basic marketing management with John Ney. It was an incredible class where I learned how to work effectively in a group, conduct research, work with clients and provide a finished product with recommendations to that client. We helped a local children's book author, as well as ISU Credit Union."
"I had been running my own social media marketing business for two years," he continued, "and I was able to draw on the Small Business Development Center (SBDC) for additional advice on how to develop and grow. I was also looking to pivot away from marketing, though, and landed in Jeff Street's office, becoming the spokesperson for and a runner-up winner of the Idaho Entrepreneur Challenge. We eventually took that business and grew with the business management practicum course, becoming a client of College of Business students ourselves! ISU's College of Business is all about real-world, practical experience, and they have the resources to support their students. There are plenty of free resources for growing a business. I tried to tap into every available option to maximize the leverage of my time and ability as we grew."
When asked how his experience at the College of Business helped prepare him for his current job, Henderson said, "The College broadened my education to be able to talk across a wide spectrum of fields. With a more diverse background, it helps when looking at the "bigger picture" such as unit economics or how we price our services." He continued, "My favorite 'gain,' though, was the framework for decision making that economics provided me. In my day-to-day, I consistently think about those basic principles like opportunity cost, diminishing returns, perverse incentives, sunk cost, etc."
Currently, Henderson is at flight school and is on pause with his civilian employer, Lockheed Martin. He plans to return to the Greater Denver Area, resume work with Lockheed and fly part-time with the Colorado Guard once he completes flight school. He also plans to start his master's degree in aerospace engineering soon as well.
---
Categories: