University Policy Manager Named
December 7, 2020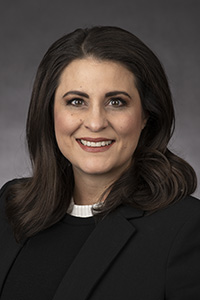 After a competitive search process, Idaho State University has named Libby Howe as University Policy Manager. This important role is charged with collaboratively developing ISU Official Policies and Procedures with campus stakeholders. Howe brings a transparent, open, and empathetic approach to the policy process. She will focus on building effective communication and consensus building strategies to the role, maintaining a focus on mission in all policy development efforts.
Howe has served in a variety of positions at Idaho State University over the last 20 years and in that time has developed strong relationships across campus, which will be of great benefit in this position. Currently, she serves as a valuable member of our Marketing and Communications team assisting in many high-level event productions, including commencement and previous investiture ceremonies. Her experience as the Director of University Relations will bring valuable insight to the policy-making process, providing historical context for the operational processes and decisions that have been made at the University over the last two decades. Prior to her time at ISU, Howe held positions as a television news journalist in Idaho Falls and Pocatello.
Howe will assume the position at the beginning of January. The position will report to the President's Office, but will be physically housed in the Office of the General Counsel.
---
Categories: