Provost Woodworth-Ney announces plans to leave Idaho State
November 5, 2020

POCATELLO – Executive Vice President and Provost Laura Woodworth-Ney has announced her plans to leave Idaho State University and pursue other career opportunities. Her last day at the University will be mid-January 2021.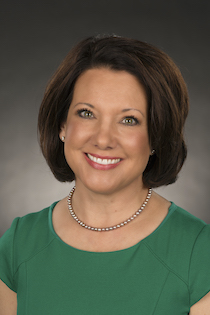 Woodworth-Ney was named Idaho State University's Executive Vice President and Provost in August 2016. Prior to that, she served as the Provost and Vice President for Academic Affairs, a position she assumed in June 2013. She was also an associate vice president in Academic Affairs.
In her 10 years in Academic Affairs, Woodworth-Ney has helped to attract top deans and faculty, expanded ISU's campus reach, increased Idaho State's international reputation in research and teaching, and most recently, she led ISU's academic community through the COVID-19 pandemic.
"Laura's contributions to this University are numerous and critical," ISU President Kevin Satterlee said. "I can say unequivocally that Laura has demonstrated truly exemplary leadership that will have a lasting impact on this institution. But more than that, Laura's leadership has a resounding impact on the entire system of education in Idaho. We have been so fortunate to have her steady, thoughtful, and compassionate approach in the role of our provost. I, personally, have been greatly honored to work alongside her."
Woodworth-Ney earned a bachelor's degree in English from the University of Idaho, and a Ph.D. in American History and Public History from Washington State University.
Woodworth-Ney is nationally active on topics related to higher education and access and is Idaho's representative on the Western Interstate Commission for Higher Education's Academic Forum. She is responsible for ISU's regional accreditation by the Northwest Commission on Colleges and Universities, and has twice served as the chair of the Idaho State Board of Education Office's Council on Academic Affairs and Programs.
"Laura personifies what it means to be a strong leader, and the beneficiaries of her leadership go beyond the students, faculty and staff at Idaho State University," said Matt Freeman, executive director of the Idaho State Board of Education. "Her colleagues across Idaho's colleges and universities and at the State Board of Education have benefited greatly from her calm, thoughtful, and caring leadership. On behalf of the State Board, I thank Laura for her many years of service, and wish her the very best in this next chapter of her career."
A native of Rupert, Woodworth-Ney is a fourth-generation Idahoan. University leadership will hold discussions with faculty in the near future to prepare the launch of a national search for her replacement. An interim provost has not yet been publicly named.
---
Categories: