ISU student Allen Savant will complete his degree 27 years after starting it
December 10, 2020

POCATELLO – At Idaho State's virtual winter commencement ceremony on Dec. 12, 50-year-old Allen Savant will receive a training certificate from the College of Education and he is due to graduate with a workplace training and leadership Bachelor of Science degree in May.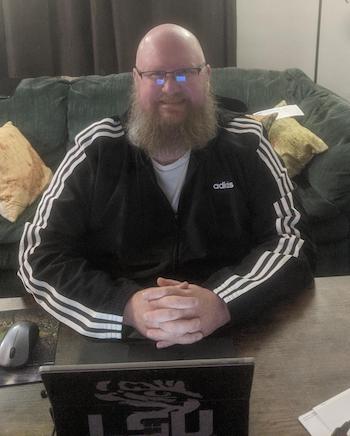 "For me, it is a personal goal that I started 26 years ago," said Savant, who is originally from Bogalusa, Louisiana, and moved to Pocatello in 1997. "In the back of my mind I didn't care if I ever used the degree I got. It is that fact that I started something and I finished it. That was my determination."
Savant started college as a vocal performance major in 1994 at Southeastern Louisiana University in Hammond, Louisiana, but quit school in 1996. He then got married and he, his wife and 1-year-old son Josh then moved to Idaho the next year, where his wife's mother was from. The next time he tried school was in 2001, after he was divorced and now had two sons, including his youngest, Caleb.
"I tried it, but it was just too much, working full time, trying to raise small kids and go to school full time, so I ended up dropping out," Savant said.
He spent about 20 years working for the City of Chubbuck Public Works in a variety of departments. A couple of years ago he switched careers and now works at Concentrix as a quality evaluator.
"This last time I started school, my youngest boy graduated in 2017, so I'm like, 'well, I've raised my children and it is time for me to finish what I have been trying to do for so many years,'" he said.
Besides the certificate he'll earn this semester and the bachelor's degree he'll earn in May (after taking just one more class), he will also earn a Leadership Certificate related to his major. Along the way to completing his degree, the coronavirus pandemic hit in 2020.
"I work at home and I go to school at home, so the challenge this year was to compartmentalize myself," he said. "I sit at my desk at work and then I sit at my desk when I go to school so I had to mix it up to where I didn't feel like I was in the same place for 16-17 hours a day."
One thing that wasn't different about 2020 for Savant was that he "surprised myself every semester doing things I never thought I could do." The biggest challenge this fall semester was a class that demanded he write a lot of papers, a task that overwhelmed him at first, but he worked through it.
"I was able to brush up my writing skills to where when I'm writing anything, even if it is a simple email, I proofread it before sending it out to make sure it is professionally written," he said.
Savant said he may eventually pursue a master's degree in informational technology design from the College of Education. He is excited about the opportunities his degree may provide him because it relates to his current job and, potentially, others.
"It basically prepares me for any type of training," he said. "It could be training in a corporation, a school or training out at the (Idaho National Laboratory) site. There are a lot of jobs I could potentially get with this degree."
He encourages others to pursue their educational dreams no matter what their age.
"The way our world is changing and with all the technology coming out, you are never too old to learn something new, whether pursuing a degree, taking a class or taking a webinar to learn a new app for your phone," Savant said.
Savant also pursued his education to be an example for his two sons.
"If it wasn't for them, I don't think I would have ever finished because also I wanted to teach them to never give up on your dreams because eventually if you work hard enough, it will pay off," he said.
"You want to hear something crazy" he continued, "part of me is scared to graduate because I have been working so long for this degree that with it coming to an end it scares me, but at the same time it is exciting that I am finally closing a chapter in my life so I can start a new one."
---
Categories: