ISU groups, president give a hand in Rake-a-Difference fundraising effort
December 2, 2020

POCATELLO – Idaho State University student groups and President Kevin Satterlee lent a hand and helped with the Pocatello Free Clinic Rake-a-Difference fundraising campaign that took place this fall.
More than 120 volunteers from ISU including students, faculty members and administrators joined the scores of community volunteers in this effort, which has raised approximately $15,000 for the Pocatello Free Clinic, a local non-profit organization that has been providing free medical and dental care to uninsured individuals of low income for over 49 years.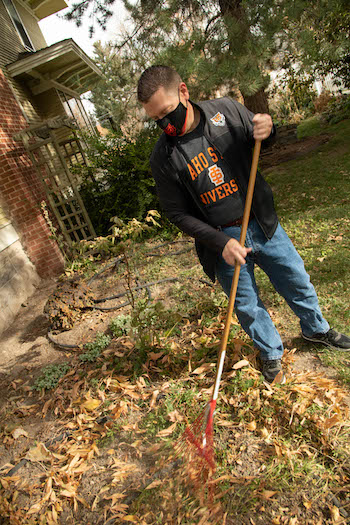 "Thank you to all the volunteers because without your help and community support we could not do this," said Kath Olsen, Pocatello Free Clinic Board member and Rake a Difference coordinator. "We are so grateful to all of you. The Pocatello Free Clinic will use this hard-earned money wisely, caring for the underserved of our community."
Groups from Idaho State that helped with the effort included the freshman honors class and their advisors, ISU honors students and physician assistant students. President Satterlee and Pocatello Mayor Brian Blad teamed up with volunteers in early November to rake lawns and over 80 honors students participated in mid-November. The event was initially envisioned by students in class taught by Idaho State business Associate Professor Alex Bolinger.
"I can't thank ISU students, faculty and President Satterlee enough," Olsen said. "What a 're-leaf' to have them help."
ISU groups teamed with volunteers from the Pocatello Fire Department, Sigma Sigma Sigma Sorority, Girl Scouts, Junior Civitans, Century High School National Honor Students and LDS missionaries and LDS Youth Groups from Pocatello and Chubbuck, according to Olsen.
Major donors included Westmark Credit Union, which funded the event with a $1,000 donation which provided pizza, tarps, and sponsored lawns of needy citizens. The Pocatello Free Clinic borrowed rakes from Pocatello Parks and Recreation, ISU Grounds, Mountain View Cemetery, Neighborworks and CAL Ranch again donated rakes.
Dave Reiland wrote a grant to Thrivent Insurance, which funded the green bags leaves were put in and Citizens Bank funded lawns to be raked for needy citizens so six lawns were raked for needy people. STRATA, Moonlight Mountain Recovery, ISU Credit Union, and Westmark Credit Union all volunteered on raking teams.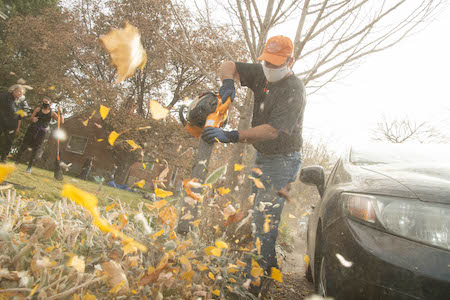 The leaves were hauled for composting to Matthew Bowman Homestead Organic Farm by a crew of volunteers.
The Pocatello Free Clinic's mission is to address vital community health needs by providing high quality health care related services to individuals regardless of their ability to pay and to advocate for policy changes that promote greater access for the underserved, thus resulting in improved community-wide health and wellness outcomes.
Photo information: Middle photo – ISU President Satterlee in action; Bottom photo – Pocatello Mayor Blad blowing leaves.
---
Categories: